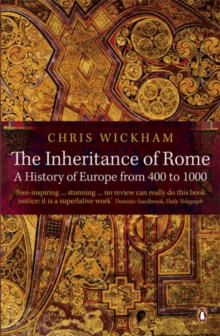 The Inheritance of Rome : A History of Europe from 400 to 1000
Paperback
Description
'The Penguin History of Europe series ... is one of contemporary publishing's great projects' New StatesmanThe world known as the 'Dark Ages', often seen as a time of barbarism, was in fact the crucible in which modern Europe would be created.Chris Wickham's acclaimed history shows how this period, encompassing peoples such as Goths, Franks, Vandals, Byzantines, Arabs, Anglo-Saxons and Vikings, was central to the development of our history and culture.
From the collapse of the Roman Empire to the establishment of new European states, and from Ireland to Constantinople, the Baltic to the Mediterranean, this landmark work makes sense of a time of invasion and turbulence, but also of continuity, creativity and achievement.
Information
Format: Paperback
Pages: 688 pages
Publisher: Penguin Books Ltd
Publication Date: 28/01/2010
Category: European history
ISBN: 9780140290141
Free Home Delivery
on all orders
Pick up orders
from local bookshops
Reviews
Showing 1 - 2 of 2 reviews.
Review by fist
16/06/2015
This book deals with a fascinating and often neglected period in the history of Europe. Sadly, it is a very hard read. Unlike, say, John Julius Norwich, the author is hardly able to paint the larger picture in which to add the details. Combined with a writing style that is almost a parody with its double negations and sentences that turn around on themselves, this makes it almost unreadable as a non-fiction book, but turns it into a dense textbook where almost every sentence needs to be parsed and analysed to acquire its full meaning. Wickham is certainly a knowledgeable academic, but he is lacking the skill of successfully sharing this knowledge with the public.
Review by TomMcGreevy
16/06/2015
The Dark Ages are not as 'dark' as I had assumed. That said, this is a difficult book to read. It covers 600 years of history across Europe, the Middle East, and Turkey - in only 550 pages. Altogether, a great deal of history in a limited space. I learned in particular that this is the period in which Christian morality entwined with the practice of government raising the issues which we continue to confront today. Additionally the aristocracy and royalty differentiated themselves from the peasantry by systematically disenfranchising them progressively throughout this time. The history presented is not monolithic and the work overall is a good introduction to the complexity of the period, but only an introduction...