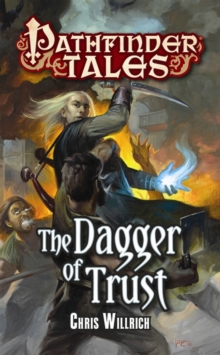 Pathfinder Tales: The Dagger of Trust
Paperback
Description
Gideon Gull leads a double life: one as a talentedyoung bard at the Rhapsodic College, the other as a student of the ShadowSchool, whereTaldor'sinfamous Lion Blades are trained to be master spies and assassins.
When amagical fog starts turning ordinary people into murderous mobs along the borderbetween Taldor andGideon's homenation of Andoran,it's up to himand a crew of daring performers to solve the mystery before both nations fall tomadness and slaughter.
But how do you fight an enemy that turns innocent peopleinto weapons?From critically acclaimed author Chris Willrich comes abold new adventure of intrigue, espionage, and arcane mystery, set in theaward-winning world of the Pathfinder RoleplayingGame.
Information
Format: Paperback
Pages: 400 pages
Publisher: Paizo Publishing, LLC
Publication Date: 11/02/2014
Category: Fantasy
ISBN: 9781601256140