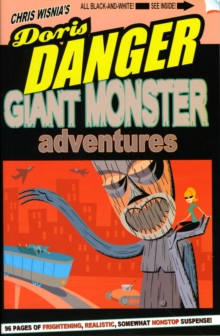 Doris Danger Volume One: Giant Monster Stories
Paperback / softback
Description
Doris Danger is a photo-journalist who, as a teen, was abducted by a giantmonster.
Ever since, she's had a burning desire to prove the existence of giantmonsters, but has yet been unable to prove her beliefs and snap thatindisputable photograph.
Along the way, she has met many others who believe, asshe does, in giant monsters.
She has managed to convince many, foremost of them,her boyfriend, former astronaut Steve Wonder. And she has met many who doubt,try to disprove, or even lie, manipulate, and cover up evidence.
Join everyone'sfavorite Tabloid photo journalist as she encounters giggling scientists, afezz-wearing cult, the Monster Liberation Army, FBI "G" Division, robotsdisguised as African tribesmen, actors disguised as robots, menacing mannequins,hillbillies, and GIANT MONSTERS!
Information
Format: Paperback / softback
Pages: 96 pages
Publisher: Slave Labor Books
Publication Date: 25/11/2009
Category: Comics and Graphic Novels
ISBN: 9781593621803
Free Home Delivery
on all orders
Pick up orders
from local bookshops