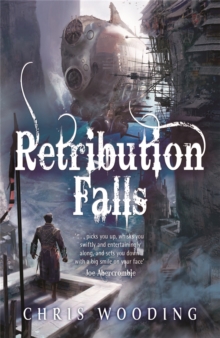 Retribution Falls : Tales of the Ketty Jay
Paperback
Description
Frey is the captain of the Ketty Jay, leader of a small and highly dysfunctional band of layabouts.
An inveterate womaniser and rogue, he and his gang make a living on the wrong side of the law, avoiding the heavily armed flying frigates of the Coalition Navy.
With their trio of ragged fighter craft, they run contraband, rob airships and generally make a nuisance of themselves.
So a hot tip on a cargo freighter loaded with valuables seems like a great prospect for an easy heist and a fast buck.
Until the heist goes wrong, and the freighter explodes.
Suddenly Frey isn't just a nuisance anymore - he's public enemy number one, with the Coalition Navy on his tail and contractors hired to take him down.
But Frey knows something they don't. That freighter was rigged to blow, and Frey has been framed to take the fall.
If he wants to prove it, he's going to have to catch the real culprit.
He must face liars and lovers, dogfights and gunfights, Dukes and daemons. It's going to take all his criminal talents to prove he's not the criminal they think he is ...
Information
Format: Paperback
Pages: 448 pages, Illustrations
Publisher: Orion Publishing Co
Publication Date: 08/04/2010
Category: Fantasy
ISBN: 9780575085169
Free Home Delivery
on all orders
Pick up orders
from local bookshops
Reviews
Showing 1 - 5 of 6 reviews.
Previous | Next
Review by HeikeM
16/06/2015
What a wonderful yarn is told - this is an adventure, a thriller, a fantastical story all set in the world of steampunk. Pirates, airships and a mystery that grabs you and holds you and does not let you go until you're through. So much fun. It is definitely a book for adults, but it reminded me so much of the stories in my head when I was a child, colourful, wild, fantastic, giving me something new with each turn of the pages. There is a second book coming - I have problems waiting. The whole story and it's characters are nothing new in story terms but the way it's told is fresh and fun.
Review by Jannes
16/06/2015
Retribution falls chronicles the adventures of the crew on board the airship "Ketty Jay" in a retro-futuristic wild west-style setting full of isolated cities, pirates, guns, and more airships than you can shake a gas-filled balloon at. I won't try to summarize the plot, or even the premise beyond that in my piss-poor excuse for English, because I have a firm suspicion that anyone interested in this book will have a fairly certain idea of the main gist of what it's all about.To be quite honest I'm in two minds about this book. Please bear with me while I try to untangle myself from my conflicting emotions. My main impression of the book can be summed up as follows. A: it is, essentially, one big, airship-flying, pistol-wielding, dark past-hiding, Firefly/Serenity rip-off; and B: this is not necessarily a bad thing.I actually wrote a list of all the things in the novel that are more or less directly lifted from the 2002 Joss Whedon series; from the Anti-hero captain with a heart of gold, to the fallen aristocrat on the run from the law, to the much Reaver-inspired Manes, but I later took it out to not seem more like Besserwisser than I already do. Let's just leave it at this: if you've watched Firefly, you might recognize a few things. For good or bad.But as I said, this is not necessarily a bad thing. Sure, some of the repartee, humour, characters and action will be familiar, but never so much that it becomes boring. The plot is also somewhat predictable, but not so much that you'll lose interest. The characters are... well... not exactly deep or complex, but likeable, and at least relateable. Overall,I don't get the feeling that Retribution Falls is trying to hide its roots, or to pretend that its something other than what it is. And that is a pack of good-natured, pulp-y, action filled, roguish fun. It's an adventure novel, filled with airships, pirates, guns (so many guns!) and magic. If that sounds appealing to you and you're just out for a thrill and a few laughs, then you should check it out. If not, well, it's your loss.
Review by CarmeloRafala
16/06/2015
An excting, old-fashioned adventure story. Brings back the fun of the old pulp-style action novels, but with more character development. Lots of fun and lots of twists.
Review by majkia
16/06/2015
What a fun read! What's not to love? Sky pirates!The vibe is very Firefly-ish altho Mal Reynolds was a MUCH better pirate than Frey. I enjoyed the action, the plot was complex enough to keep my attention but not so convoluted that I felt lost. There were surprises galore. Altho I saw the final confrontation coming, it really just had to happen. I loved that it had a resolution, even if there is a follow-on. Too few series books actually give you a real ending!
Review by clfisha
16/06/2015
Lets say be upfront on this I didn't really like but I reckon you might..Well only if you like action packed, swashbuckling tales, with a smidgen of Steampunk (it's got airships), a roguish cast of pirates, dastardly villains, dark humour, posh balls, bar fights, mechanical golems, daring escapes, gunfights, and heroic redemption (but not too much) and a fight against the odds.The opening chapter is one of the best I have read, straight into the action whilst introducing the cast and a perfect balance between humour and edginess. In fact it's a really ripping read for the 1st half of the book. Ok the latter half does have some issues, it slows down a bit and some of the characters act a bit too idiotically and there's a odd shift in tone from rollicking adventure to deadpan heartbreaking seriousness which I felt didn't quite work.However for me it was the lack of female characters that just ended up unbalancing the book, a personal issue for me sure, but one it's worth mentioning (but skip this bit if you don't care). The anti-hero is a misogynist and whilst it's fine during the rollicking adventure bits when shifted into seriousness it left a bad taste in my mouth; the lack of female characters/use of 3rd person made me feel complicit in this attitude because the alternative view is hidden. It's a shame because there is a lot of interesting plot laid out for the next one, the other characters (yes all horribly flawed too) are well done and interesting but there isn't a promise its going to get better on the misogyny front and I won't be seeking the next book.