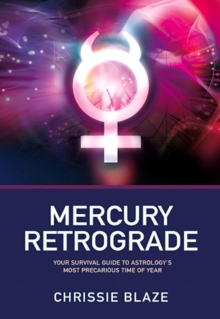 Mercury Retrograde : Your Survival Guide to Astrology's Most Precarious Time of Year
Paperback / softback
Description
When the planet Mercury shifts orbit, we experience a few weeks of missed connections and communication breakdowns.
Your package never arrives. You sign a contract that turns into a disaster. You may feel it's bad luck. It's Mercury Retrograde and it's happening to everyone, all at the same time.
This is a practical workbook with a calendar to make it simple to look up the times when Mercury is retrograde and plan ahead, and a survival guide with techniques to help you sail through these periods.
It explains how Mercury Retrograde is a gift to make your life more fulfilling.
The golden secret of Mercury Retrograde is a time to review, revisit, re-examine, rethink and reboot.
Information
Format: Paperback / softback
Pages: 256 pages, Illustrations
Publisher: John Hunt Publishing
Publication Date: 21/02/2008
Category: Astrology
ISBN: 9781846940736
Also by Chrissie Blaze