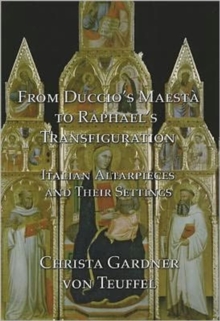 From Duccio's Maesta to Raphael's Transfiguration : Italian Altarpieces in Their Settings
Hardback
Description
Christa Gardner von Teuffels studies of Italian altarpieces have provided fundamental insights concerning the original structure and setting of some of the canonical monuments of Italian late medieval and Renaissance painting.
Studies of panel type and frame architecture are combined with an investigation of original sites.
Archival discoveries at Florence and Palermo have led to a new assessment of institutional patronage and private benefaction, and illuminated the formulation of altarpiece programmes, such as Peruginos Vallombrosan Assumption and Raphaels Lo Spasimo.
These essays contribute enduringly to our understanding of contractual obligation, design process and altarpiece installation, and demonstrate the nexus between ecclesiastical and lay patrons, artists and congregations. The authors pioneering examination of Carmelite patronage and subsequent investigation of the iconographical impact of Benedictine and Franciscan reform movements have prompted others to re-assess the patronage of religious Orders in the Quattrocento. The pervasive iconographical influence of the Holy Land is traced through Sansepolcro, Santa Croce in Gerusalemme at Rome and as far as the astonishing View of Sinai by El Greco.
Information
Format: Hardback
Pages: 380 pages, 215 illus.
Publisher: Pindar Press
Publication Date: 31/12/2005
ISBN: 9781899828937