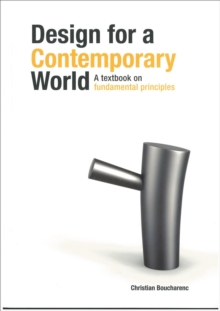 Design for a Contemporary World : A Textbook on Fundamental Principles
Paperback / softback
Description
Design for a Contemporary World is a textbook that presents the theory and practice of design fundamentals.
Design plays a significant role in environmental, ethical, economic and cultural arenas, and contributes to people's wealth, cultural identity and quality of life.Drawing on a rich published literature and extensive classroom and practical experience, Christian Boucharenc offers learning objectives that develop motivation, the creative spirit, cognitive strategies - especially critical thinking and problem-solving - and perceptual motor skills among students.
The teaching approach encourages design students and aspiring designers to work with a variety of materials in an experimental, creative and open-ended manner.The teaching approach also promotes a clear understanding of the subject matter, and links the teaching of design fundamentals to professional practice.
Abundant real-world design examples are used, some from students and others from the portfolios of three eminent designers: Toshiyuki Kita from Japan, Yrjo Wiherheimo from Finland, and Patrick Chia from Singapore.
This book is relevant to teachers, students and aspiring designers of widely varying cultures, skill levels and orientations.
Information
Format: Paperback / softback
Pages: 256 pages
Publisher: NUS Press
Publication Date: 15/09/2008
Category: Product design
ISBN: 9789971693473