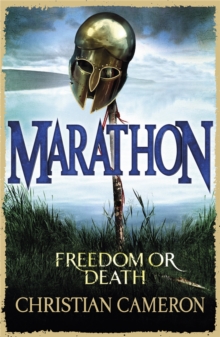 Description
Two and a half thousand years ago, the Greeks and the Persians fought an epic battle to decide the future of the world...Arimnestos of Plataea grew up wanting to be a bronzesmith, like his father.
Then, in the chaos of war, he was taken to a city in the Persian empire and sold as a slave.
To win his freedom he had to show that he could fight and kill.
Now, to preserve that freedom, he must kill again.For the Persians are coming.
A vast army sent by King Darius to put down the rebellious Greeks and burn the city of Athens to the ground.
Standing against them on the plain of Marathon is a much smaller force of Athenians, alongside their Plataean allies.
To defeat such overwhelming force seems impossible. And yet to yield would mean the destruction of everything the Greeks have dreamed of. In the dust and heat of Marathon, in the clash of shields and the rush of spears, amid the thunder of hooves and the screams of the dying, those dreams will undergo their fiercest test - and Arimnestos and his Greek comrades will discover the true price of freedom.
Information
Format: Paperback
Pages: 464 pages
Publisher: Orion Publishing Co
Publication Date: 01/03/2012
Category: Historical fiction
ISBN: 9781409118060
Free Home Delivery
on all orders
Pick up orders
from local bookshops
Reviews
Showing 1 - 1 of 1 reviews.
Review by janerawoof
16/06/2015
Interesting concept of Greco-Persian War, following history as far as possible with culmination in the decisive Battle on the Marathon Plain and immediate aftermath. Not really outstanding, but a rousing action/adventure as told by the protagonist, Arimnestos of Plataea, as an old man, looking back 40 years or more, as told to a group: his family?Household? Other Plataeans? He doesn't just reminisce and dwell on his triumphs; we see interaction with his audience--at least his remarks are given, odd as some of them are.... The novel opens with a recap of events in vol. 1. I appreciated this as I had not read it, but I can see where others who are following the series in order, were probably bored. Then this novel plunges into nonstop action. Marathon was only a few pages toward the end; this title seemed like a ploy to sell more books, but we are led up to the final conflict although it took a long time to get there. Miltiades, a pirate, is introduced early on and assumes importance. Other famous names from antiquity such as Aristides and the playwright Aeschylus, fight in the war. In the first part of the story, Arimnestos grows as a more experienced fighter: at Lade and Miletus and in Part II, becomes a very effective leader of his Plataean contingent at Marathon and in the last skirmish in the olive grove, factors into the Greek success. I enjoyed the sea warfare. Arimnestos for much for the book seemed too full of himself and I didn't like him much. But he began to change after his apology to someone; he became more engaging. He even begins to admit he has made some mistakes. The other characters seemed two-dimensional.
Also in the The Long War series | View all