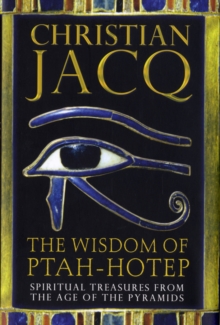 The Wisdom of Ptah-hotep
Hardback
Description
'Wise words are rarer than precious stones'Egyptologist, essayist and novelist, Christian Jacq is one of the most widely read authors in the world.
Here, he presents a new vision of one of the pillars of Egyptian wisdom and the key to an era of rich spirituality which has much to offer us.
Ptah-Hotep was a philosopher and leading statesman in the Egypt of 2400 BC.
Having reached the great age of 110 he decided to pass on the benefit of his experience by setting down a collection of sayings, or 'wisdoms'.
Miraculously preserved, his work has a real claim to be the oldest book in the world and offers not only wisdom but also an exceptional insight into the life and philosophy of the ancient world.
As second in command to the fifth-dynasty pharaoh Djedkare Isesi, Ptah-Hotep's work is crucial to our understanding of the golden age of the Ancient Empire (around 2640--2040 BC).
Through this book we can see into the mind of the sage and share his most intimate reflections.
Styled as advice from father to son or master to pupil, his words offer counsel on timeless topics such as the art of governing, the nature of true knowledge and how to enjoy a harmonious life without violence.
Information
Format: Hardback
Pages: 224 pages
Publisher: Little, Brown Book Group
Publication Date: 12/10/2006
Category: General & world history
ISBN: 9781845293420
Free Home Delivery
on all orders
Pick up orders
from local bookshops