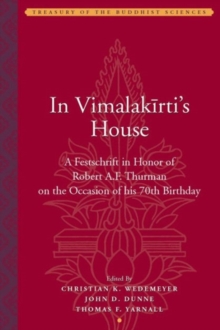 In Vimalakirti`s House - A Festschrift in Honor of Robert A.F. Thurman on the Occasion of His Seventieth Birthday
Hardback
Description
Over the course of nearly half a century, Robert A.
F. Thurman has left an indelible mark on numerous fields of study, including Buddhist literature, Tantric Buddhism, Tibetan Studies, and the comparative sciences of mind.
To celebrate his seventieth birthday, Thurman's students and colleagues have come together to pay tribute to these contributions and to Thurman's ongoing leadership in these fields by assembling a collection of essays of their own that extend and supplement his groundbreaking research. In Vimalakirti's House is the result of this collaboration and represents a broad spectrum of cutting edge studies in areas central to Thurman's own scholarly project.
The resulting volume is itself a kind of "treasury of the Buddhist sciences," insofar as its authors explore wide-ranging problems in art, literature, epistemology, history, ritual, buddhology, and lexicography. Published by American Institute of Buddhist Studies (AIBS)
Information
Format: Hardback
Pages: 500 pages
Publisher: American Institute of Buddhist Studies
Publication Date: 30/06/2015
Category: Buddhism
ISBN: 9781935011194
Also by Christian K. Wedemeyer | View all