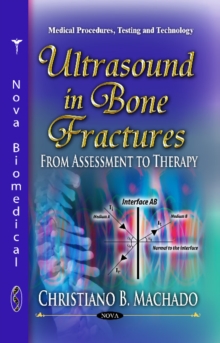 Ultrasound in Bone Fractures : From Assessment to Therapy
Hardback
Description
Bone is a complex and specialised connective tissue, with a degree of elasticity even with a high concentration of mineralised components in the extracellular space.
After a fracture event, an acute response takes place with a molecular signalling cascade for bone induction, called fracture healing.
This phenomenon represents a multistage repair process with a well defined temporal and spatial sequence, and it can lead to severe complications such as non-unions, delayed unions, and infections, whose treatment represents important negative consequences for patients and a socio-economic burden, particularly due to the high costs in health care.
Besides the conventional X-rays and more recently computed tomography, ultrasound techniques have been proposed to evaluate and monitor fracture regeneration.
On the other hand, recent studies show that ultrasound stimulation can be considered as a therapeutic tool for the enhancement of bone fracture healing.
Therefore, ultrasound has a twofold perspective for bone fracture healing: therapy and diagnosis/follow-up.
This book is intended to give an overview of the field and consists of chapters detailing theoretical and experimental aspects of the interaction phenomena between ultrasound waves and bone.
It was prepared for medical doctors, physical therapists and other health professionals, biomedical engineers and ultrasound researchers, and it shows recent findings on the application of ultrasound in clinical diagnosis (ultrasound imaging and quantitative ultrasound) and therapy for fractures.
The basics of bone histology, mechanics and regeneration are presented, as well as an introduction to ultrasound physics, giving more insight for the comprehension of the several mechanisms involved.
Information
Format: Hardback
Pages: 157 pages
Publisher: Nova Science Publishers Inc
Publication Date: 01/12/2013
Category: Medicine: general issues
ISBN: 9781628085068