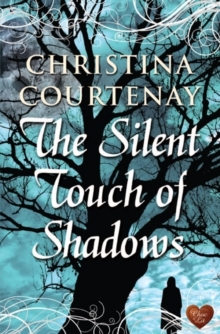 The Silent Touch of Shadows
Paperback
Description
What will it take to put the past to rest? Professional genealogist Melissa Grantham receives an invitation to visit her family's ancestral home, Ashleigh Manor.
From the moment she arrives, life-like dreams and visions haunt her.
The spiritual connection to a medieval young woman and her forbidden lover have her questioning her sanity, but Melissa is determined to solve the mystery.
Jake Precy, owner of a nearby cottage, has disturbing dreams too, but it's not until he meets Melissa that they begin to make sense.
He hires her to research his family's history, unaware their lives are already entwined.
Is the mutual attraction real or the result of ghostly interference? A haunting love story set partly in the present and partly in fifteenth century Kent.
Christina Courtenay won the 2012 Best Historical Romantic novel of the year award (RoNA) for her novel Highland Storms.
Information
Format: Paperback
Pages: 336 pages
Publisher: Choc Lit
Publication Date: 01/07/2012
ISBN: 9781906931766
Free Home Delivery
on all orders
Pick up orders
from local bookshops
Reviews
Showing 1 - 1 of 1 reviews.
Review by CommutingBookWorm
16/06/2015
The Silent Touch of Shadows by Christina CourtenayMelissa Granthem has split from her husband and father of her daughter, the promise of 'to have and to hold forever' was broken and not by her. Jake Precy, is a widower with a daughter the same age as Melissa's and the two girls become friends through school once Melissa moves from London, into her ancestral home. Sibell's husband was killed in 1459 and she was then forced to move back with her abusive father and brothers until they signed the deal for her re-marriage to a man old enough to be her grandfather. Sir Roger meets Sibell whilst he is on his quest to get his real father to acknowledge his existence and inheritance. Despite the odds, they fall very much in love but will they ever be together? Through ghosts and love the two worlds merge into the here and now however will Melissa be at peace until it's resolved once and for all?. Primarily this is a love story, first and foremost and as readers have come to expect from Choc Lit its all credible and the reader knows there is going to be a happy ever after ending. The journey to get there is enjoyable, intriguing and enlightening. Christina Courtenay must either study a thesaurus or she goes to bed with one. Some of the vocabulary in this story is wonderfully unique and delicious. Words such as sweeting, melee, guffaw, doppelganger to name just a few. The story is well written and delivered including the end that if it were a chocolate bar would be satisfying and silky all at the same time. Out from Choc Lit 07th July 2012, treat yourself to a good read because you deserve it! The Commuting Bookworm 26/06/12