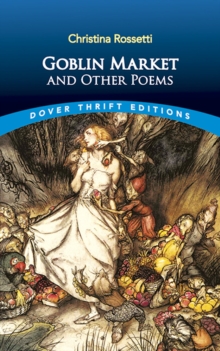 Goblin Market and Other Poems
Paperback
Information
Format: Paperback
Pages: 64 pages
Publisher: Dover Publications Inc.
Publication Date: 20/05/1994
Category: Poetry by individual poets
ISBN: 9780486280554
Free Home Delivery
on all orders
Pick up orders
from local bookshops
Reviews
Showing 1 - 5 of 5 reviews.
Review by ryvre
16/06/2015
Beautiful poetry. The imagery is so vivid you can almost taste the fruit.
Review by MusicMom41
16/06/2015
When I was a teenager I loved Christina Rossetti poems. Shortly after we moved back to California in the early 90's I picked up this book but never got around to reading it. I stumbled across it a few days ago and decided this would be a good time to get it off my TBR pile. This is a Dover edition of the first book Rossetti published. I decided to save Goblin Market until last because it is quite long and I wanted to get back into her style before I tackled it. It was a wise decision. I've been reading a lot of 20th century poetry and at first it was a little difficult to get back into the rhythm of 19th century poetry-which, when I was a teenage I "specialized' in! But once I got into the flow I once again became immersed in Rossetti's world. Her poems are haunting and often sad. The introduction quotes Virginia Woolf as saying "Death, oblivion, and rest lap around your songs with their dark wave." Her two main themes are sensual love and religious devotion. In her life she eventually renounced the first for the second. I now realize why I loved her so much back then. At sixteen I wanted to become a nun—and I wasn't even Catholic. Even after all these years, I enjoyed these poems. Most were ones I either hadn't ever read or have forgotten but I also encountered some "old friends." I plan to look for more of her poems to see how she matured as a poet. My favorite poem of hers wasn't in this book.
Review by lilywren
16/06/2015
I often find that when I write reviews I waffle on far too much. All I can say about this book is that I find myself wanting more. I want to drink in more of Christinas' poetry and find out more about her, her life and history. I was introduced to her through my love of her brothers' art. Dantes' art and Christina's poetry seem so compatible. The Goblin Market is such a wonderful tale of desire, wanting, haunting and love. So much more than the initial thoughts (at the time) of it being a children's poem. Her other works in this book are so beautiful I cannot describe them in my words. These lack the poetic beauty Rossetti conjures. There is so much sadness, love and, yes, hope in these verses. I love poetry but, up until now, have never found one that I could say 'Yes, this is IT'. But, reading this, I feel in Christina Rossetti, I have indeed found 'it'. I only wish I could conjure up so much emotion and feeling through my use of words as she
Review by shanaqui
16/06/2015
I've never actually read any of Christina Rossetti's poetry before, as far as I know. Which is actually kind of sad, because I loved it. The imagery in the main poem, Goblin Market, was lovely, and the fairytale aspect of it, too. I liked a lot of the other poems in the volume as well. Makes me glad I got it this semester and had chance to enjoy it whole, before I have to pick it apart next semester!
Review by BooksForDinner
27/08/2015
Not a regular poetry reader, but found this lying around the house and checked it out. A lot of fun, great gothic imagery and sadness.
Also by Christina G. Rossetti | View all
Also in the Dover Thrift Editions series | View all