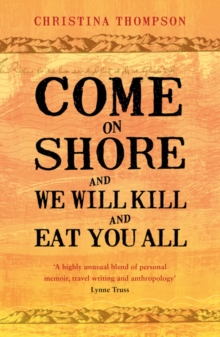 Come on Shore and We Will Kill and Eat You All
Paperback
Description
Come On Shore and We Will Kill And Eat You All is a sensitive and vibrant portrayal of the cultural collision between Westerners and Maoris, from Abel Tasman's discovery of New Zealand in 1642 to the author's unlikely romance with a Maori man.
An intimate account of two centuries of friction and fascination, this intriguing and unpredictable book weaves a path through time and around the world in a rich exploration of the past and the future that it leads to.
Information
Format: Paperback
Pages: 288 pages
Publisher: Bloomsbury Publishing PLC
Publication Date: 17/08/2009
Category: True stories
ISBN: 9780747596707
Free Home Delivery
on all orders
Pick up orders
from local bookshops
Reviews
Showing 1 - 1 of 1 reviews.
Review by sunnycouger
16/06/2015
I was attracted to this because it was a cross between a personal memoir and an anthropology account, but to be honest it kinda just skirted both genres. It was okay, without being great and it provided basics, without giving anything really in depth and although it was okay, it didn't really seem to have a massive point. The past and the present aspects worked well enough, but the whole book just seemed to meander along and although you obviously can't manipulate petty dramas in a factual book, I guess the whole thing just seemed to peter along at a fairly even, easy osey pace which I guess is fine, but didn't make for an overly engrossing read.<br/><br/>It was a fair enough book and a decent enough insight into cross cultures but perhaps a little lacking in certain aspects to be fully satisfying for either genre. Some decent observations about Darwin, Cook and other older explorers. I perhaps found the the historical contexts the most engrossing parts of the book and again, although it lacked the depth of a true anthropological account it does provide a decent beginners guide to the problems of making contact with new cultures and civilisations and the way initial contacts and be construed and have a lasting impact on society.<br/><br/>All in all, it was worth picking up but probably not going to be high on any re-reads. The historical content was too scattered, the present day context too flimsy and the insertion of her own family's background happens too late in the day for it to seem as anything other than an attempt at marrying the story together in a 'look how far we've come' sort of way which was a nice tying up of sorts, but I almost wish we could have got the contrasting views a little earlier in the day to give a sort of tie in between everything that was happening.<br/><br/>It's an easy book to read, and informative enough to be worth it if you have any interest in the area and I know it probably sounds like I didn't enjoy it, but it wasn't a bad book, just maybe not what I was expecting.
Also by Christina Thompson