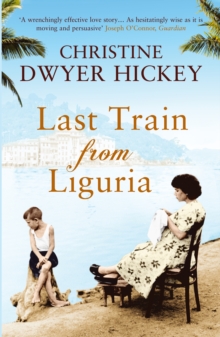 Last Train from Liguria
Paperback
Description
In 1933, Bella Stuart leaves her quiet London life to move to Italy to tutor the child of a beautiful Jewish heiress and an elderly Italian aristocrat.
Living at the family's summer home, Bella's reserve softens as she comes to love her young charge, and find friendship with Maestro Edward, his enigmatic music teacher.But as the decade draws to an end and fascism tightens its grip on Europe, the fact that Alec is Jewish places his life in grave danger.
Bella and Edward take the boy on a terrifying train journey out of Italy - one they have no reason to believe any of them will survive...
Information
Format: Paperback
Pages: 400 pages
Publisher: Atlantic Books
Publication Date: 01/04/2010
ISBN: 9781843549888
Free Home Delivery
on all orders
Pick up orders
from local bookshops
Reviews
Showing 1 - 5 of 5 reviews.
Review by karensaville
16/06/2015
Another book that is set in the present and the past. A girl researches her grandmothers past and the actual story of the grandmother. Of how she came to be living in Italy looking after a small boy, her relationships and her eventual flight from Italy during the war. A good holiday read
Review by pokarekareana
16/06/2015
It is the mid-1930s and Bella's father sends her to Mussolini's Italy to become a nanny to a young boy. Among growing anti-Semitism and political uncertainty, Bella grows to love the boy and his Jewish family, but is forced to flee as the threat of war grows ever stronger and life becomes increasingly difficult for Italy's Jewish population. Insert extreme peril here!The book was mostly written from Bella's perspective, with brief interludes from Edward at the beginning, and then more from Bella's granddaughter Anna towards the end. Edward himself was a very interesting figure and I would have liked to have heard more from him, especially as the plot thickened and approached the bit with all the peril. I sensed Bella's attachment to him, but it was hard to get a grip on his thoughts about her, and what else was happening in his head. He has an interesting back story and I thought there was a lot of room for Hickey to explore that a bit more than she did.I thought this book was going to be great. I'm into peril and disaster and Holocaust Studies. Unfortunately, Christine Dwyer Hickey let me down by writing Bella as an irritatingly anachronistic Victorian lady, prone to fainting fits and other stereotypically 'womanly' vices. I found myself just wanting her to shut up, lock herself away in a darkened room with her smelling salts, and let somebody else tell the story. I admit this is a harsh attitude to adopt towards a fictional character but it drove me to distraction. The parts written from Anna's perspective seemed a little superfluous, although it was an interesting attempt to portray a character digging up a relative's darkest secrets from the past.The quality of the writing was the redeeming feature of this. It made me want to hop on a train seventy years ago and get myself down to Italy. I would probably read more from this author, as long as she promised not to produce another bellyache like Bella.
Review by Welshwoman
16/06/2015
This is the first of Hickey's books that I've read. The story is told by 3 different people. Bella goes to Liguria to take care of a young boy; at the villa in Bordighera, there is an Irishman who teaches the boy piano and acts as a companion to the child. As time goes on, Hitler's power and menace becomes more apparent, as does that of Mussolini. The boy's mother is Jewish, meaning only danger for the child (despite his Catholic upbringing). Bella and Edward are asked to take the child and his baby sister to England and safety. It's a moving story, intelligently written and with a great sense of place.
Review by pamjw
16/06/2015
Bella is sent to Italy to be tutor to Alec, whose mother is Jewish. She arrives to a very complicated household set-up - and the tightening of Fascism in Italy, with all that entails.This is the story of her developing relationship with Alec, and his beloved Maestro Edward, culminating in being on the last train from Liguria.It's an interesting book, well set in it's historical setting, though slightly complicated at times!One small niggle is the use of Italian in the text, that is not translated - why bother?!
Review by namaste374
16/06/2015
I really enjoyed this book right up until the end. i supposed my ordered mind that likes to know all the ends are tied up was disappointed but I felt the book fizzled out. Maybe it was the author's intention to leave us hanging and not to know what happened; after all, in the war lots of people just disappeared. However, I think I would like to have known a bit more. The idea of writing the book from 3 different points of view was ok but unnecessary I think. Overall, good read but ending disappointing.
Also by Christine Dwyer Hickey | View all