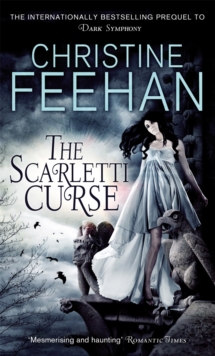 The Scarletti Curse : Number 1 in series
Paperback
Description
THE BEASTStrange, twisted carvings and hideous gargoyles adorn the palazzo of the great Scarletti family.
But a still more fearful secret lurks within its storm-tossed turrets.
For every bride who enters its forbidding walls is doomed to leave in a casket.THE BRIDEMystical and unfettered, Nicoletta has no terror of ancient curses and no fear of marriage . . . until she looks into the dark mesmerising eyes of Don Scarletti.
She had sworn no man would command her, had thought her gift of healing set her apart, but his is the right to choose a bride from among his people. And he has chosen her.THE BARGAINCompelled by duty, drawn by desire, she gives her body into his keeping, and prays the powerful, tormented don will be her heart's destiny, and not her soul's demise.
Information
Format: Paperback
Pages: 448 pages
Publisher: Little, Brown Book Group
Publication Date: 01/10/2010
Category: Fantasy
ISBN: 9780749953126
Free Home Delivery
on all orders
Pick up orders
from local bookshops
Reviews
Showing 1 - 2 of 2 reviews.
Review by karma212
16/06/2015
By far one of my favorite books. I never read Christine Feehan before but after this book I was sure to go check out the rest of her books. This has become one of my favorites. The book had it all mystery,romance,a slight creepiness factor along with some humor and a dash of innocence. Nicoletta is the healer of her village. The land they live on is owned by Don Scarletti who is the most feared amongst all the people. There have been many deaths in the Scarletti Palace. Every bride that ever walked into the place has been murdered. Along with some of the female workers. The rumor is the Palace is cursed, and Don Scarletti believes in the devil. One day the village healer is called upon by the Don. Nicoletta does very well in hiding her "gifts" since if ever found out by outsiders she is sure she will be labeled a witch. So Maria Pia another main character in the book pretends to be the healer and Nicoletta just a lowly servant to the healer. All is great until Don Scarletti's eyes lay upon Nicoletta. And that is where the story begins. Not to give too much away but Nicoletta fears the Don not only because he can speak to her through her mind but because of the murders and seeing how her mother and aunt were killed in the palace she has a reason to be.
Review by ElleLainey
16/06/2015
I loved this! I think Don Gionvanni may be my new favourite lead male in a novel. I love that you see his gentle side and his dark side equally, without the story leaning towards one or the other. You're left wondering the whole time if he's just a great actor or if he really is the good guy.I loved the whole concept, all the characters, the uncertainty of who to trust and who to believe. I think the whole mystical/supernatural storyline was a great back-up to the romance and crime aspects as well. Very original.
Also in the Scarletti Dynasty series