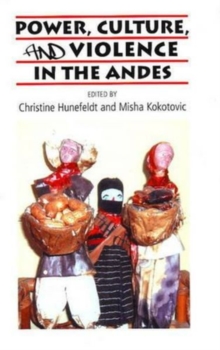 Power, Culture & Violence in the Andes
Paperback / softback
Description
Scholars from Anthropology, History, and Literary and Cultural Studies present their current research on culture and violence in the Andean region.
Within an interdisciplinary approach, the contributors to this volume explore the complex and mutually constitutive relationship of culture and violence in Peru and Bolivia, countries with large indigenous populations who have largely preserved their culture and way of life in spite of centuries of colonial domination and the encroachment of capitalist modernization, including its latest free-market variant.
The intertwined histories of culture and violence in the Andes are examined through analyses of the indigenous and popular mobilization that brought Evo Morales to power as Bolivias first indigenous president, conservative Latin American intellectuals' response to this popular rejection of neoliberal economic and social policies, the work of Peru's Truth and Reconciliation Commission and the legacy of the Shining Path war, and nineteenth-century intellectual and political discourses on race, gender, and the incorporation of indigenous peoples into the nation-state.
Information
Format: Paperback / softback
Pages: 224 pages
Publisher: Sussex Academic Press
Publication Date: 02/08/2012
Category: Social & cultural anthropology
ISBN: 9781845195649