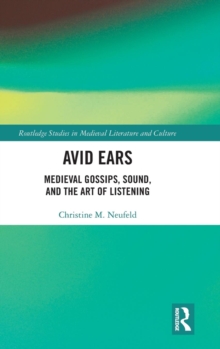 Avid Ears : Medieval Gossips, Sound and the Art of Listening
Hardback
Description
Arguing that women's "silencing" is in part the result of women's voices being treated as the white noise of history, Avid Ears: Medieval Gossips, Sound, and the Art of Listening explores the historical representation of female voices as actual acoustic phenomena.
The volume focuses on English antifeminist satire during the linguistically dynamic late Middle Ages to argue that the resonant gossips' circle offers a cultural poetics of listening for those attentive to medieval auditory regimes.
Understanding what it means to listen from both medieval and modern perspectives can challenge, so this book argues, the specular logic informing a long satirical tradition that casts the noisy speaking woman as the nemesis who confirms the social authority of the erudite man.
Discerning the acoustic preoccupations of the gossips' circle inevitably hovering behind the shrew, Avid Ears explains why the threat posed by a woman talking back to a man is only exceeded by that of a woman speaking to other women.
The first book-length study to use sound studies to explore how gender registers in the medieval literary soundscape, Avid Ears attunes critics to how and what we hear when women speak in literature.
Information
Format: Hardback
Pages: 212 pages
Publisher: Taylor & Francis Ltd
Publication Date: 19/12/2018
ISBN: 9781138370449
Other Formats
EPUB from £40.49
PDF from £40.49