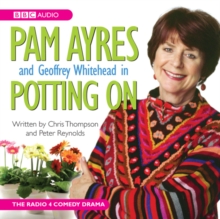 Pam Ayres In Potting On
eAudiobook MP3
Please note: eAudiobooks can only be purchased with a UK issued credit card.
Description
Pam and Gordon Grant are a couple at odds running a rural garden centre.
While Pam still feels young and is determined to avoid the slippery slope into middle-age, Gordon seems keen to dive in - slippers first. Pam's ally at the garden centre is teenager Carol, a girl more than happy to speak her mind.
If only, Gordon complains, there was something in her peroxide head apart from boob jobs, alco-pops, Johnny Depp and bronzed chests smothered in baby oil...
Naive deputy manager Dave, though older than Carol, is smitten.
Luckily, he has Pam to advise him on the route to Carol's heart: like pointing out that metal detecting is NOT a good idea for a hot date! And how could the garden centre survive without the ancient and, quite frankly, bizarre Roy, the highly inaccurate singer of pop songs and runner-up in the Gloucester beauty pageant? Will Pam's last fling at life, adventure and fun overcome Gordon's passion for comfortable trousers, caravanning and penny-pinching?
Let battle among the begonias commence!
Information
Format: eAudiobook MP3
Run-time: 0 hours 0 mins
File size: 0MB
Publisher: BBC Audio
Publication Date: 07/04/2008
Category: Radio
ISBN: 9781405667081
Download and listen
eAudiobook