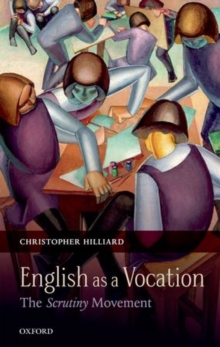 English as a Vocation : The 'Scrutiny' Movement
Hardback
Description
English as a Vocation is a history of the most influential movement in modern British literary criticism.
F. R. Leavis and his collaborators on the Cambridge journal Scrutiny in the 1930s to the 1950s demonstrated compelling ways of reading modernist poetry, Shakespeare, and the 'texts' of advertising.
Crucially, they offered a way of teaching critical reading, an approach that could be adapted for schools and adult education classes,modelled in radio talks and paperback guides to English Literature, and taken up in universities as far afield as Colombo and Sydney.
This book shows how a small critical school turned into a movement with an international reach.
It tracks down Leavis's students, analysing the pattern of their social origins and subsequent careersin the context of twentieth-century social change.
It shows how teachers transformed Scrutiny approaches as they tried to put them into practice in grammar and secondary modern schools. And it explores the complex, even contradictory politics of the movement.
Champions of creative writing and enemies of 'progressive' education alike based their arguments on Scrutiny's interpretation of modern culture. 'Left-Leavisites' such as Raymond Williams, Richard Hoggart, and Stuart Hallwrought influential interpretations of social class and popular culture out of arguments with the Scrutiny tradition.
This is the first book to examine major figures such as these alongside the hundreds of other teachers and writers in the movement whose names are obscure but who wrestled with the same challenges:how do you approach a baffling poem?
How do you uncover what an advertisement is trying to do?
How can literature inform our everyday experiences and judgements?
What does 'culture' mean in modern times?
Information
Format: Hardback
Pages: 314 pages
Publisher: Oxford University Press
Publication Date: 01/06/2012
Category: Literary theory
ISBN: 9780199695171