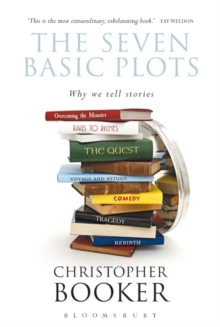 The Seven Basic Plots : Why We Tell Stories
Paperback
Description
Breathtaking in its scope and originality, "Seven Basic Plots" examines the basis of story telling in literature, film, and libretto.
No one will ever see stories in the same way again. This remarkable and monumental book at last provides a comprehensive answer to the age-old riddle of whether there are only a small number of 'basic stories' in the world.
Using a wealth of examples, from ancient myths and folk tales via the plays and novels of great literature to the popular movies and TV soap operas of today, it shows that there are seven archetypal themes which recur throughout every kind of storytelling.
But this is only the prelude to an investigation into how and why we are 'programmed' to imagine stories in these ways, and how they relate to the inmost patterns of human psychology.
Drawing on a vast array of examples, from Proust to detective stories, from the Marquis de Sade to E.T., Christopher Booker then leads us through the extraordinary changes in the nature of storytelling over the past 200 years, and why so many stories have 'lost the plot' by losing touch with their underlying archetypal purpose. Booker analyses why evolution has given us the need to tell stories and illustrates how storytelling has provided a uniquely revealing mirror to mankind's psychological development over the past 5000 years.
This seminal book opens up in an entirely new way our understanding of the real purpose storytelling plays in our lives, and will be a talking point for years to come.
Information
Format: Paperback
Pages: 736 pages
Publisher: Bloomsbury Publishing PLC
Publication Date: 10/11/2005
Category: Literary theory
ISBN: 9780826480378
Free Home Delivery
on all orders
Pick up orders
from local bookshops
Reviews
Showing 1 - 5 of 9 reviews.
Previous | Next
Review by ElectricRay
16/06/2015
This book, which by all accounts has taken Christopher Booker 30 years to write, isn't the first attempt to distil all of storytelling down to a few archetypes. I dare say it won't be the last, either. While it's a fantastically learned, well-read, and at times insightful entry on the subject, it encounters the same problems others like Joseph Campbell have: that that the facts of actual literature tend to sit uneasily with the unifying theory, and that the unifying theory itself tends to rest on an analysis of human psychology which sounds like it might be so much bunk, and a particular world view - moral objectivism - which definitely is. Both Jungian psychoanalysis and moral objectivity are taken as read by Christopher Booker and as such he spends no time justifying them (perhaps understandably - the arguments for and against each would fill this book many times over). Nonetheless, in my view, he's simply wrong about both of them, and it blows a Big Hole in his Big Idea. Booker's Big Idea is this: when you boil them down, there are only seven archetypal stories in all of literature, and further that if you boil those archetypes down, they are in many ways the same story viewed from different perspectives. This is perhaps intuitively understandable: in the broadest sense all stories are a variation of "there once was a problem, and it got resolved" - but the kicker is this: Booker asserts that any story which fails to follow his prescription is - objectively - flawed. Now that sounds like a recipe for disaster, doesn't it. The first observation to make is that this significantly undermines his claim to have found a unifying theory: Suddenly, it's not all literature that follows the archetype, but all *good* literature. As a moral objectivist, that doesn't seem to Booker like much of a concession, but from any other perspective it is: what Booker is saying is that all literature *which he likes* meets one of the seven archetypes. What seemed to be a bold assertion about the nature of literature is instead a simple indictment of Booker's appreciation of it. That seems more plausible, anyway: the point and content of a story, you would think, cannot be straight-jacketed in this way. The fact that popular stories tend to have similarities speaks to our cultural heritage, the common dilemmas of life and death we share, and perhaps to our lack of imagination, not to some cosmic rule of fiction. This has been borne out in more "enlightened" times (literally - since the enlightenment), as Booker notes to his dismay that these similarities have tended to fade. But even without that modern interference, Booker notes that the seven archetypes tend to fragment under the weight of closer analysis - there are "dark inversions" of each, and inversions of various characters. So, the seven become fourteen or more. The second problem is that, as mentioned, the last couple of centuries have seen stories fail more and more to keep to the archetypes. Booker blames this on romanticism, and is required by his theory to claim that these divergent stories are intrinsically flawed. That might not be a problem were these flawed stories not to include almost all the classics of modern literature, except perhaps Lord of the Rings and the Narnia chronicles (both of which, quelle surprise, have a fundamentally Christian, and therefore morally objectivist, subtext). So, you can write off Melville, Nabokov, Balzac, Lawrence, Stoker and Shelley, or write off Booker's theory. For me, it isn't a difficult choice.
Review by BraveKelso
16/06/2015
Dennis Dutton, the editor of ALdaily, reviewed or mentioned this excellent work. It is long and time consuming and not, by any means easy.
Review by hannahbond
16/06/2015
The premise of this book -- that all stories, from classics to modern movies, follow seven basic plots -- is intriguing. Booker has compiled a lot of examples to illustrate his analysis, and the volume of summarized stories becomes almost overwhelming. What begins as a interesting read becomes tiresome due to an excessive level of detail. I kept yearning for an executive summary. A good book, but I could not finish it. After I found myself skimming whole chapters, I decided to give up. I may come back someday. One unexpected plus -- I have added a number of older books and classics to my reading list after getting hooked by Booker's synopsis of them.
Review by JessicaRydill
16/06/2015
A fascinating but infuriating book which requires one to accept the premise that Jungian archetypes form the only satisfying basis for a narrative. This premise is explored through the means of numerous if partial examples from both literary and popular culture. The author's bias and erudition make this an enjoyable read and it is worth persevering to the end, however there are several annoying factual errors in the plot summaries. And Booker's despair with regard to novels and other works from the 18th century onwards, with a few exceptions (Crocodile Dundee is a bizarre and much-quoted example) leave one feeling frustrated.<br/><br/>A note of caution: Booker seems to believe that the only possible fulfilling relationship is that between a man and a woman, and that other permutations must by their nature lack validity. Which is a bit normative, if you ask me. But it remains a work that anyone who loves writing or reading should take a look at, if only because it provides a guide to many different types of plot and the archetypes that *may* underlie them.<br/><br/>This is one for fans of narrative closure! ;-)<br/><br/>
Review by JMJ_Williamson
27/08/2015
This is quite an academic tombstone of a book to read. I enjoyed it, but it will not be everyone's choice. If you're looking for a practical guide on story structure this is not it. There are lots of other book on the mythic structure of stories. If you're an academic or interested in the psychology of why we tell stories then you may find it interesting.