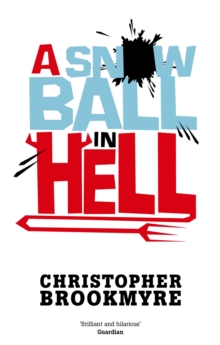 A Snowball in Hell
Paperback
Description
If society has the B-list celebrities it deserves, it now has a killer to match. Except that Simon Darcourt is a great deal more successful in his career choice than the average talent show contestant. He's also got the media taped - by the simple expedient of by-passing them completely and posting real-time coverage of his killings on the internet. He's got viewing figures to make the world's TV executives gasp in envy, and he's pulling the voyeuristic strings of every viewer by getting them to 'vote' to keep his captives alive.
Angelique De Xavier, his previous nemesis, is drafted onto the police team trying to bring this one-man celebrity hate-fest to an end. But she can't do it alone, she needs the magical skills of her lover, only she doesn't know where Zal is and meanwhile a whole load of celebs are, literarly, dying to be famous.
An intelligent satire, a thriller with exhilarating pace - Christopher Brookmyre at his best.
Information
Format: Paperback
Pages: 400 pages
Publisher: Little, Brown Book Group
Publication Date: 01/03/2009
Category: Crime & mystery
ISBN: 9780349120515
Free Home Delivery
on all orders
Pick up orders
from local bookshops
Reviews
Showing 1 - 5 of 5 reviews.
Review by riverwillow
16/06/2015
Another superbly funny and biting satire from Christopher Brookmyre. The presumed dead deranged terrorist/psychopathic killer Simon Darcourt reappears slaughtering 'B' and 'C' list celberities. Once again Angelique de Xavier, the Ugandan Asian Glaswegian uber policewoman in on his trail, reuniting with her erwhile lover, Zal Innes, in order to track Darcourt down before he can complete his massacre. The satire is biting about a dead 'z' list celeb, 'Anika's past indiscretions have been effectively expunged from public record, and the two-faced, back-stabbing ruthlessness with which she secured her berth in Vogue 2.2 transmuted into 'drive', 'ambition, 'spark' and even 'a go-getting lust for sucess that we would do well to instil in this lacklustre generation of unmotivated youth'. But it's not just that her past can no longer be used to taint her: nor can her future. She's an ideal, an icon for people to project on to without fear of the reality spoiling the effect. Everybody loves her now, because there's nothing she can do to get on anybody's tits. She can't run off at the mouth and say something that will alienate anybody who disagrees with it. She can't betray her semi-literate ignorance of the written word as it exists beyond "Now" magazine. She can't let slip some racial or homophobic epithet that would bring down instant condemnation or call into question the values and attitudes she was raised with.'The plot is full of twists, turns and misdirection,which all work. But most importantly of all is Brookmyre's dark, and drier than the best Scottish whisky, humour which combine to create a satisfying, entertaining read.
Review by mephit
16/06/2015
I very much enjoyed my second Christopher Brookmyre, Snowball in Hell. It was seriously in danger of becoming more a rant against reality tv and the Littlejohns/Clarksons of life to begin with, but the story managed to reassert itself. I liked the baddie more than I should have, and the goodies not as much, but it was an enjoyable read and he's an author I will continue to seek out.
Review by jessicariddoch
16/06/2015
Irreverant, rude with bad language and dubious morals. just remember to hide from parents and visitors 
Review by MrsPlum
16/06/2015
This was recommended to me by someone who thought I would like it because I am a P.G.Wodehouse fan looking for modern writers I might enjoy. Given that I rarely read modern novels, the first chapter or so was a complete culture shock. I can't say I was comfortable with it. Brookmyre bears no resemblance to Wodehouse whatsoever that I can see.I did stick with it though, and found myself enjoying it to the end. I find Brookmyre's style and characters quite fascinating. As I also loathe celebrity culture and reality TV, I could appreciate the plot and get some satisfaction in seeing the victims bumped off.I do think I will try Brookmyre again, out of curiosity as much as anything else.
Review by cajela
16/06/2015
A Christopher Brookmyre novel is always a treat. Black comedy thrillers with a modern sensibility, plenty of pop culture savvy, and a Scottish feel that's all Glasgow hard edges and no wee gobshites in kilts and heather. This one features the amazing policewoman Angelique de Xavier, and her magician friend Zal. They're up against repeat villain Simon Darcourt, sociopath and mass murderer. Uncomfortably, Brookmyre makes you want to cheer for the poetic justice that Darcourt metes out to odious shock jock and reality TV personalities along the way. But you do know with Brookmyre that we won't have evil prevail in the end - the question is not whether but HOW Angelique will solve the case. And, of course, just how messy and complicated and fucked up and blackly hilarious things will get along the way.
Also by Christopher Brookmyre | View all