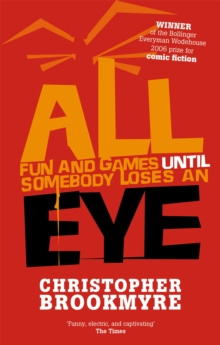 All Fun and Games Until Somebody Loses an Eye
Paperback
Description
As a teenager Jane Bell had dreamt of playing in the casinos of Monte Carlo in the company of James Bond, but in her punk phase she'd got herself pregnant and by the time she reaches forty-six she's a grandmother, her dreams as dry as the dust her Dyson sucks up from her hall carpet every day. Then her son Ross, a researcher working for an arms manufacturer in Switzerland, is forced to disappear before some characters cut from the same cloth as Blofeld persuade him to part with the secrets of his research. But they are not the only ones desperate to locate him. A team of security experts is hired by Ross's firm: headed by the enigmatic Bett, his staff have little in common apart from total professionalism and a thorough disregard for the law.
Bett believes the key to Ross's whereabouts is his mother, and in one respect he is right, but even he is taken aback by the verve underlying her determination to secure her son's safety as she learns the black arts of quiet subterfuge and violent attack. The teenage dreams of fast cars, high-tech firepower and extreme action had always promised to be fun and games, but in real life it's likely someone is going to lose an eye ...Visit the author's website at www.brookmyre.co.uk
Information
Format: Paperback
Pages: 416 pages
Publisher: Little, Brown Book Group
Publication Date: 20/04/2006
Category: Crime & mystery
ISBN: 9780349117454
Free Home Delivery
on all orders
Pick up orders
from local bookshops
Reviews
Showing 1 - 5 of 5 reviews.
Review by defrog
16/06/2015
This is the second book I've read by Brookmyre, and it's all right, maybe not as good as the other one, or at least not quite as convincing. Essentially, a 46-year-old grandmother joins an elite mercenary squad to rescue her kidnapped son. Amusing at times, strong characterization and some decent satire, but I couldn't really buy the idea that you can train to be a part of a crack mercenary squad in a matter of hours with zero previous experience. I don't care how bad yr marriage is.
Review by soulbyte
16/06/2015
This book is pure class. If I could give it 6/5 I would. It's absolutely hilarious, gripping, and really a work of genius. CB is at the top of his game with this one and I could not put it down. If only you could go from housewife to super spy!
Review by brokenangelkisses
16/06/2015
Billed as 'winner of the Bollinger Everyman Wodehouse 2006 prize for comic fiction', I expected great humour from this book and was initially disappointed. I found the opening chapter confusing but persevered. Once the narrative moved on to Jane's life, I was in familiar territory: lonely, aging woman reflects on acceptable but mundane life to date and feels she is largely 'past it'. Although this may sound dull, it is a tribute to the author's skill that Jane's thoughts engage your sympathy rather than irritation while some of the key characters are sketched out.As the story developed and the central mission unfolded the story became far more engaging. The plot twists are humorous, if often predictable. Dialogue is snappy, if occasionally reminiscent of films in which the bad guys spend too much time posturing, allowing them to get caught. The characters are interesting, although it is unfortunate that one of the central male figures loses his sense of enigma and becomes a typical psychological stick figure by the end of the novel.Overall, it was an enjoyable novel which is well-written and woven together. Worth a read, but probably not another.
Review by AHS-Wolfy
16/06/2015
This is probably the least of Brookmyre's laugh-out-loud novels but doesn't suffer at all for that. 46 year-old mother of two and also a grandmother, Jane Fleming, is recruited by a team of highly skilled professionals to help them find and rescue her son. He's in the process of inventing a device which will stop any projectile weapon. Unfortunately, his secret has got out into the wide world and it's upset some quite unpleasant people. Escaping from the first attempt to grab him he still manages to fall into nefarious hands thanks to the best endeavours of his dad. So it falls to mum to help in the rescue.It's quite Bond-ian in nature with plenty of tech gadgets on parade and sufficiently over the top locations. The characters are built steadily and the development of the main character from frumpy grandmother to action hero is well handled. A good book from a favourite author to start the year.
funny, different and easy to read
Also by Christopher Brookmyre | View all