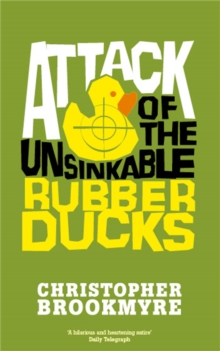 Attack of the Unsinkable Rubber Ducks
Paperback
Description
Do you believe in ghosts? Do we really live on in some conscious form after we die, and is that form capable of communicating with the world of the living?...Aye, right. That was Jack Parlabane's stance on the matter, anyway.
But this was before he found himself in the more compromising position of being not only dead himself, but worse: dead with an exclusive still to file.
From his position on high, Parlabane relates the events leading up to his demise, largely concerning the efforts of charismatic psychic Gabriel Lafayette to reconcile the scientific with the spiritual by submitting to controlled laboratory tests.
Parlabane is brought in as an observer, due to his capacities as both a sceptic and an expert on deception, but he soon finds his certainties crumbling and his assumptions turned upside down as he encounters phenomena for which he can deduce no rational explanation.
Perhaps, in a world in which he can find himself elected rector of an esteemed Scottish university, anything truly is possible.
One thing he knows for certain, however: Death is not the end - it's the ultimate undercover assignment.
Information
Format: Paperback
Pages: 416 pages
Publisher: Little, Brown Book Group
Publication Date: 05/06/2008
Category: Crime & mystery
ISBN: 9780349118819
Other Formats
EPUB from £6.99
CD-Audio from £13.25
Free Home Delivery
on all orders
Pick up orders
from local bookshops
Reviews
Showing 1 - 4 of 4 reviews.
Review by brokenangelkisses
16/06/2015
Brookmyre initially makes this a very difficult book to engage with. The opening chapter is written by a tabloid columnist describing an event that cannot be explained logically by current scientific understanding. Or can it? The style is exaggerated, familiar and grating, but I bore with it, waiting for the writer's more familiar, sharp style to kick in, which it does when Jack Parlabane, recurring jornalist, starts to tell his tale. Parlabane begins his narration by echoing the previous narrator's opening lines and then immediately tearing her ideas apart in his own inimitable style, but is forced to admit that he finds himself in a tricky position…Unfortunately, the reader finds themselves in a trickier one. After Parlabane has begun to explain the start of his story, the narrative shifts again, fragmenting into a sequence of first person narratives, arranged according to plot rather than chronology. This makes the first half of the novel seem slightly disjointed and too much like information gathering, as if Brookmyre is prepping the reader to notice key points.Once the novel reaches the half way point and Parlabane is investigating the supposed psychic abilities of Lafayette the plot really takes off as layers of deception are revealed. Brookmyre reveals events and perspectives gradually, allowing for key revelatory moments, but the main twist is utterly predictable. This isn't really a problem, since the fun is in the patterning and revisioning that Brookmyre uses to reveal just how Lafayette works – and why there are a string of dead people.Ultimately, all the threads of the plot are pulled together and there is a satisfying resolution. Parlabane's total ignorance of deception, when he has been involved in testing Lafayette's 'abilities' precisely to spot deception, is potentially frustrating to those readers who can spot the methods used, but is still believable given his situation. The novel encourages readers to think seriously about whether or not mediums and other such people are really 'a bit of harmless fun' or the first step towards going backwards in modern society; the repeated threat to 'our kids' may seem exaggerated but is based on movements already underway. Overall, if you can get through the meandering first half, this is a book worth reading for the plot, sharp dialogue and interesting ideas that it raises.
Review by riverwillow
16/06/2015
I'm a big fan of the Jack Parlabane novels and this one does not disappoint.. Parlabane takes on the paranormal and physics in this one which is narrated by Parlabane, Michael, a student who gets caught up in the events of the book and Jillian Noble, another journalist who takes the opposite view to Parlabane, as Parlabane comments 'comparing herself to "the hardest-bitten sceptic" is prettty tough to swallow for anybody who knows she's a fully fledged God-botherer'. There are lots of twists and turns to the plot, and plenty of Brookmyre's trademark dark humour and scathing wit. Superb.
Review by whiteriot
16/06/2015
Enjoyed this book and particularly the Scottish setting. CB likes his contemporary references. There are a few good laughs in here alongside a more serious criticism of psychic fraudsters and the religious right. I didn't feel that all the voices came through effectively, although the switches between narrators was critical in keeping tension in the story. The book managed to capture my attention enough for me to want to get to the end. I'll probably seek out another by him at some point, but not straight away.
Review by sanddancer
16/06/2015
I loved Christopher Brookmyre's early books and will admit to having a slight crush on his investigative journalist character, Jack Parlabane, but I was under-whelmed by some of his later books and I haven't bothered with quit e a few of the recent ones. But if "Attack of the Unsinkable Rubber Ducks" is anything to go by, he is back on form. Once more it features the cynical journalist Parlabane, but this time he is narrating the book from beyond the grave, and the theme of the book is the paranormal and fake psychics. The title refers to some people's unshakeable beliefs despite huge evidence to contrary. Essentially this is a crime novel, but the trickery of the celebrity mediums and the human psychology behind it makes for an interesting setting. Yet again, this is a book with a split narrative. Parlabane is the main narrator and his deadpan Scottish humour will be familiar to anyone who has read Brookmyre's other books, but he shares the narration with a student caught up in the events and a female journalist with opposing views to Parlabane. The parts by the latter are dryer in style than the rest and the opening chapter seemed to drag, but it is worth sticking with as the story soon picks up.I guessed a couple of the twists before they were revealed but that didn't spoil my enjoyment of this. A good light read.
Also by Christopher Brookmyre | View all