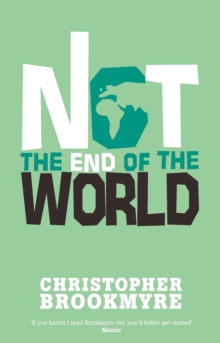 Not The End Of The World
Paperback
Description
The crew of an oceanic research vessel goes missing in the Pacific along with their mini-submarine. An evangelical media star holds a rally next door to a convention in LA devoted to 'nubile' cinematic entertainment. The cops know there's going to be trouble and they are not disappointed. What they didn't foresee was the presence in their state of a Glaswegian photographer with an indecipherable accent and a strong dislike of hypocrisy, or of a terrorist who seems to have access to plutonium as well as Semtex. In his unique style, Christopher Brookmyre throws a harsh light on the selfish preoccupations of 1990s society and at the same time provides uproarious entertainment.
Information
Format: Paperback
Pages: 400 pages
Publisher: Little, Brown Book Group
Publication Date: 01/06/1999
ISBN: 9780349109282
Free Home Delivery
on all orders
Pick up orders
from local bookshops
Reviews
Showing 1 - 1 of 1 reviews.
Review by TheDivineOomba
10/11/2015
A book with a tight, but zany plot, characters that felt real. A story with people who have been victims (From loss, from violence, from sexual abuse), but that is does not define. Example, the porn star - Madeline. She is a person distancing herself from her family because of abuse - but she is a full person in this story. The abuse is not all there to her story.Each character is fully realized, from the detective mourning his son's death due to illness, to the photographer, wanting to see the sites of Los Angeles.This book was originally published in 1999, just in time for the new year. As a result, all sorts of references to end of the world weirdness abounds in this book, from a research vessel doing a Mary Celeste, to conservative Christians making end of the world prophecies. It covers topics from porn stars, to abortion, to child abuse. But, its not a dark book. At times, they rhetoric used by the Christian Sect could be taken directly from any of the right-wing speeches given today. It was an odd feeling.The writing is tight. The plot is all over the place, but in a good way. It manages to tie together doomsday cults, ancient catastrophes, a Hollywood Film Fair, and a celebrity photographer, and does it in a way that makes complete sense at the end.Recommended if you like books that are fast paced, zany, and includes dark humor.
Also by Christopher Brookmyre | View all