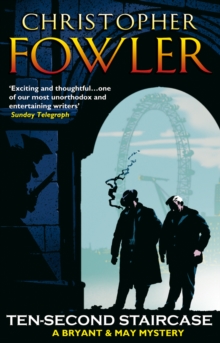 Ten-Second Staircase
Paperback
Description
A controversial artist is found dead in her own art installation inside a riverside gallery with locked doors and windows - the only witness is a small boy who insists the murderer was a masked man on a horse.
A television presenter is struck by lightning while indoors...Two seemingly impossible crimes that only Arthur Bryant and John May of the Met's Peculiar Crimes Unit might be able to solve.
But Bryant has lost his nerve following a disastrous public appearance, and May is fighting to keep the unit from closure.
Worse still, the case of the Leicester Square Vampire, an unsolved mystery from the past that changed both their lives, has returned to haunt them.
With a sinister modern-day highwayman bringing terror to the London streets in a series of crimes each more puzzling than the last, the elderly detectives track their suspect to an exclusive private school and a deprived housing estate.
But just when they need all the help they can get to uncover a new breed of criminal, the highwayman is hailed a national hero, and the public turns against them...Bryant & May are back on the case in an adventure that explores the dark side of celebrity, the conflicts of youth, age and class, and the peculiar myths of old London.
Information
Format: Paperback
Pages: 400 pages
Publisher: Transworld Publishers Ltd
Publication Date: 01/07/2007
Category: Crime & mystery
ISBN: 9780553817201
Free Home Delivery
on all orders
Pick up orders
from local bookshops
Reviews
Showing 1 - 1 of 1 reviews.
Review by hagelrat
16/06/2015
I was first introduced to Fowler by a fellow horror fan through a book called "Spanky" which isn't the kind of fetish erotica the cover would have you believe. It's a brilliant Faustian tale. Anyway that led me to investigate the author further and it turns out he has a very popular crime series, about a quirky pair of aged detectives Bryant & May (sounds like a brand of cigarettes so immediately memorable). These two along with a small but loyal team make up London's Peculiar Crimes Team. This is not supernatural fiction, ok the first time I met them there were zombies, but since then these have been straight crime fic. Good old fashioned detecting by a couple of total oddballs. The characters are lovingly created and I defy anyone not to become fond of them reading these novels. The plots are suitably complex and challenging, but of course we see more than the detectives do so I found I was putting things together a few pages before Bryant and May. Of course that meant I came to the wrong conclusions first too (seriously i'm as mystery writers dream I take all the red herrings home for tea). The detail of London is fascinating and intricate but slipped in so naturally as the cases are examined and the cast of oddballs that Bryant consults add a richness to the novels. I love London, i've been many times over the years and have always been enchanted with it, Fowler's tidbits just serve to deepen that enchantment.This is not the fast paced uber graphic violent crime fiction of present, it's gentler, a little noir and a little Agatha Christie, detecting by talking to people and digging through bits of paper, the forensics is generally fairly straightforward and the crime scene technology typical of an overstretched under funded slightly embarrassing department. The characters are the real joy, Arthur Bryant with his pipe and clairvoyants and hackers, John May with his determination to keep up with computers and mobile phones and his balancing affect on his partner, Longbright in her 50's wardrobe and full makeup and he rest of the team, loyal, diligent and a little offbeat.Ten-Second Staircase is based around a private boys school and a council estate in London, minor but contentious celebrities are being murdered in elaborate ways and the witness statements all point towards a Highwayman. How do you capture a myth? This case also brings the unresolved Vampire case to the fore, a case which has already nearly destroyed the friendship between the two detectives once and up against all this, the Home Office is trying to shut them down. I promise it's really not supernatural. It's wonderful. I love it and am decidedly pleased to have a couple more from this series in the TBR pile.