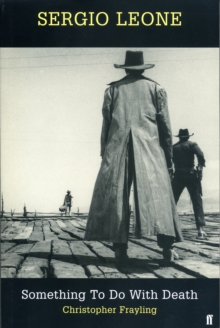 Description
Groundbreaking 'spaghetti westerns' such as the 'Dollars' trilogy (starring Clint Eastwood as 'The Man With No Name'), and the magisterial Once Upon A Time In The West, made Sergio Leone one of the most popular directors in world cinema.
Christopher Frayling's biography of Sergio Leone lovingly explores his body of work, and casts light upon the previously little-known details of his life. Sergio Leone was born into movies, his father a popular director of the silent era.
Obsessed by the illusory worlds of cinema and theatre, captivated by the myths of the American West, young Sergio embarked on a fabulous career of his own.
He made an icon out of the initially reluctant Clint Eastwood, and dallied with the Hollywood studio system, but always stuck to his guns: the gangster epic Once Upon A Time In America consumed 15 years of his life.
But Leone's passion made for extraordinary cinema: a widely-adored collection of films, about which Christopher Frayling provides an unprecedented wealth of extensively-researched analysis and anecdotage. In this revealing biography Christopher Frayling, the widely-acclaimed author of The Yellow Peril explores the life of Sergio Leone, the world-renowned director of the Good, the Bad and the Ugly, A Fist full of Dollars, Once Upon A Time in the West and Once Upon A Time in America.
Free Home Delivery
on all orders
Pick up orders
from local bookshops