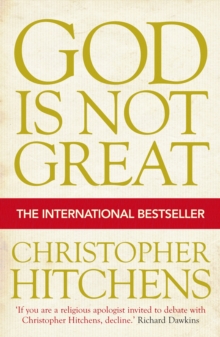 God is Not Great
Paperback
Description
God Is Not Great is the ultimate case against religion.
In a series of acute readings of the major religious texts, Christopher Hitchens demonstrates the ways in which religion is man-made, dangerously sexually repressive and distorts the very origins of the cosmos.
Above all, Hitchens argues that the concept of an omniscient God has profoundly damaged humanity, and proposes that the world might be a great deal better off without 'him'.
Information
Format: Paperback
Pages: 320 pages
Publisher: Atlantic Books
Publication Date: 08/09/2007
Category: Philosophy of religion
ISBN: 9781843545743
Other Formats
EPUB from £8.39
Hardback from £15.55
Free Home Delivery
on all orders
Pick up orders
from local bookshops
Reviews
Showing 1 - 4 of 4 reviews.
Review by arberybooks
16/06/2015
In "God Is Not Great", Christopher Hitchens sets his sights on the many, many abuses of religion and picks them off, one by one. His goal? To show that whether it is inspired by the dogmas of the Unholy Trinity (Christianity, Judaism and Islam), by the chicanery of religious founders (Muhammad, Joseph Smith and others) or the pronouncements of self-proclaimed servants of God (Pius XII, Islamic websites and so on) for generation after generation faith has destroyed human lives and happiness.As Hitchens reminds us, religion is evil in both principle and practice. On the human level there are those such as Mother Teresa, whose many sins include campaigning against the legalisation of divorce in Ireland: "In other words, an Irish woman married to a wife-beating and incestuous drunk should never expect anything better, and might endanger her soul if she begged for a fresh start. On the level of doctrine, there are such absurdities as the Unholy Trinity's repression of God-given sexuality – a denial which over the centuries has repeatedly led to, among other crimes, the mutilation, rape and torture of children and to the atrocities of terrorism. Hitchens' broad brush sweeps from Intelligent Design to Bhagwan Sri Rajneesh, from DNA to morality, from C S Lewis to racism. Occasionally he is better on details than on the whole picture (his review of "Eastern" religions suggests a few days' quick research rather than a lifetime's immersion in his subject). And although he tackles metaphysical and quasi-scientific arguments for the existence of a Supreme Being, his arguments are less than comprehensive, leaving dedicated theists wiggle-room to argue that some form of god, who bears no responsibility for the evils of Moses, Jesus or Muhammad, might nonetheless exist. Never mind. While "God Is Not Great" does not deal the deity a knock-out blow, it is sufficiently powerful to move the minds of those who are beginning to doubt their religion or who need some basic evidence to nurture the conviction that faith is a harmful illusion. Don't just read it; think carefully about what it says.
Review by liehtzu
16/06/2015
I know I'm betraying my prejudices here – and Hitchens was preaching to the, ahem, converted – but this is one of the truly great dissections of superstition of the modern era. Let's hope, as the author suggests, that it hearkens an era of renewed Enlightenment. The only reason I didn't give it five stars is because the readability factor is difficult and I should wish it had a wider audience.
Review by andyjb
16/06/2015
Interesting, amusing and in places quite ranty.
Review by TheCrow2
16/06/2015
A brilliant book from the late deceased Hitchens about how religion poisons everything... A must read for everyone who is free (or want to be freed) from dogmas.