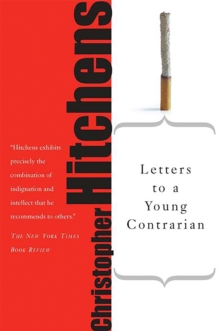 Letters to a Young Contrarian
Paperback
Description
In the book that he was born to write, provocateur and best-selling author Christopher Hitchens inspires future generations of radicals, gadflies, mavericks, rebels, angry young (wo)men, and dissidents.
Who better to speak to that person who finds him or herself in a contrarian position than Hitchens, who has made a career of disagreeing in profound and entertaining ways.This book explores the entire range of "contrary positions"-from noble dissident to gratuitous pain in the butt.
In an age of overly polite debate bending over backward to reach a happy consensus within an increasingly centrist political dialogue, Hitchens pointedly pitches himself in contrast.
He bemoans the loss of the skills of dialectical thinking evident in contemporary society.
He understands the importance of disagreement-to personal integrity, to informed discussion, to true progress-heck, to democracy itself.
Epigrammatic, spunky, witty, in your face, timeless and timely, this book is everything you would expect from a mentoring contrarian.
Information
Format: Paperback
Pages: 160 pages
Publisher: INGRAM PUBLISHER SERVICES US
Publication Date: 25/11/2002
ISBN: 9780465030330
Free Home Delivery
on all orders
Pick up orders
from local bookshops
Reviews
Showing 1 - 5 of 6 reviews.
Previous | Next
Review by illprose
16/06/2015
This slim volume by Christopher Hitchens is aimed at igniting the "contrarian" (as he calls it) in all of us. Letters to a Young Contrarian mimics Rainer Maria Rilke's Letters to a Young Poet, except instead of writing on the subject of poetry, Hitchens writes on the subject of dissent. He describes what it means to be an oppositionist, and recognizes that the title of "dissenter" is to be earned; this view deflates the egos of all the self-proclaimed "dissenters" out there. He also elucidates a few other intellectual positions, mainly: argument is good, and people are much too comforted by the thought of being apart of a crowd. As he says, "I don't think that the solidarity of belonging is much of a prize." As usual, Hitchens' wit and erudition shines through in his writing; he gives the reader prose that is simply delightful to read. It is simple, however what he writes about is nothing of the sort. Often, one can get lost in the references to certain historical figures and events. It isn't entirely over the heads of the average, well-educated person, but prepare to find out who people like Jean Jaures, Karl Liebknecht, and Aleksandr Solzhenitsyn are if you don't already. Hitchens also sprinkles Latinisms here and there throughout his letters. Obviously the books is not to be taken as an easy read, for Hitchens expects the reader to have a good grasp of history and its great men and women. If not, well, one will gain an education just by reading the book.The figures in history Hitchens refers to are Emile Zola, MLK Jr., Thomas Paine (to name some of the more well-known ones)—people who represent what it means to be a dissenter. He notes—drawing from his vast knowledge of history, politics, and philosophy—that dissenters are rarely the people one expects them to be. More often, it's the person on the corner that's rarely seen sober; one day he is put in a situation in which he must choose to speak out, to act in the name of Justice, to do what is right without being told by anyone that he should do so.Hitchens makes an eloquent case for oppositionism, convincing the reader that it is an honor to be known as an iconoclast, as contrary. What you get from the author is graceful prose combined with an uplifting message. That message: "Seek out argument and disputation for their own sake; the grave will supply plenty of time for silence."
Review by sailornate82
16/06/2015
Interesting, well-written book explicating some of Hitchens' beliefs. Primarily geared toward those interested in furthering critical thinking skills.
Review by petterw
16/06/2015
Think for yourself, writes Christopher Hitchens to his Young Contrarian. And although the kind of unemotional, contemplative life he suggests we should live is not always tempting, he manages to wake me (and the Young Contrarian I assume) up, asks me to make up my own mind about everything, question every authority and truth, and shows me the rewards for me and wy world if I chose to live like that. I admire Hitchens more than I agree with him. His letters, particularly the "as if" letter and the closing chapter are full of wisdom and great quotes - but he does sound joyless at times, even when descibing the merit of wit. If you tend to agree with the last speaker, this book is your wake-up call.
Review by roblong
16/06/2015
How to be Christopher Hitchens, in a few 'letters' to the reader. Principled talk, focused on how to think rather than what to think (although of course the correct 'how' will exclude many a 'what'). Rambles a bit sometimes, but the aim really is to raise a variety of subjects rather than to go into depth on them, so that never becomes too much of a problem. Where I disagreed with him it was worth disagreeing with him; he provokes thought, which is always good. The last two essays, one on Bosnia and the other as a summation of what had gone before, were by far the best, making for a pleasing end.
Review by dtn620
16/06/2015
I'm not sure why but I am on a bit of a Hitchens kick. Until this year I think it would be fair to state that I probably knew Hitchens more from his appearances on television (and subsequently on Youtube, the true source of my knowledge). I find it odd because I've not fallen in love with any of the books I've read so far but still find him so compelling. Maybe it's because he's so smart and unflinching, or because he's modern muckraker, or maybe it's just because he's sometimes a dick. <br/><br/>This slim volume is a series of letters to aspiring radicals, which is to say, people wishing to emulate Hitchens' philosophy. People who speak their views clearly, intelligently, and elegantly are severely lacking in the fetid mainstream of United States' (and beyond's?) media. We could use a lot more people like Hitchens, people who aren't afraid to be wrong, and apologize when they are. However, rare would be the person who could match Hitchens' reach and abilities.