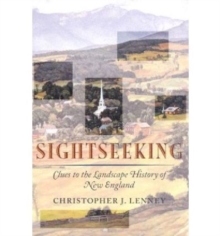 Sightseeking : Clues to the Landscape History of New England
Paperback
Description
How does one "read" a landscape? Inspired by the classic work of Hans Kurath documenting the dialect geography sub-regions of New England, Christopher J.
Lenney set out to determine whether such patterns of linguistic migration were repeated in the everyday features of our man-made landscape.
Through inspired conjecture and methodical fieldwork, Lenney discovered that at least six cultural and material artifacts could be mapped into similar flows and clusters: placenames, boundaries, townplans, roads, houses, and gravestones. With infectious enthusiasm and wit, Lenney guides the reader through a historical and cultural examination of how this artificial landscape came to be.
Of the many possible sources of placenames, for example, there are evident patterns of Algoquian and transplanted English; there is the obvious irony of patriot and Tory honored side by side.
But what do we make of the apparent hodgepodge of placename suffixes that dot our maps-the -fields, -tons, -hams, and -burys that append themselves to our life and land? And how do we explain the "Great-Big" line, a dramatic yet invisible scar across the map of Maine?The other five cultural markers similarly reveal themselves in a surprising patterning of the New England countryside-in the areas where the connected farmstead dominates, where recessed balconies or twin rearwall chimneys distinguish the scene; in the migration of gravestone cutters and their motifs, which left odd undulating waves of artistic expression throughout the region.
Lenney forces the reader to reconsider the shape of the village greens, to wonder why old roads go where they go, and to question where (good neighbors and Robert Frost notwithstanding) we built stone walls. By pushing us beyond mere sightseeing to"sightseeking," Lenney dares to fundamentally alter the way we-old-time Yankee, newcomer, and tourist alike-experience and interpret the New England landscape.
Information
Format:Paperback
Pages:376 pages, 23 illustrations
Publisher:University Press of New England
Publication Date:02/02/2005
Category:
ISBN:9781584654636