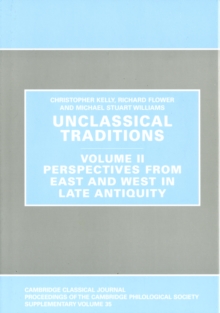 Unclassical Traditions Volume 2
Hardback
Description
Unclassical Traditions. Volume II: Perspectives from East and West in Late Antiquity is the second of two collections of essays by leading scholars discussing the nature and extent of the late-antique engagement with the classical past.
Rather than concentrating on developments at the centre of empire (the focus of a previous volume, Unclassical Traditions I ), the aim here is to present a set of views from the margins: social, political, religious, literary, geographical and linguistic.
Ranging from Armenian ecclesiastical histories, Egyptian alchemy and Jewish power politics, across the Mediterranean to the challenges raised by shifting circumstances in 5th-century North Africa and Ostrogothic Italy, the eight papers in this volume seek to establish the persistent importance of the classical tradition throughout a broadly defined late antiquity.
Despite the divergent forms taken by these various responses, they are united by a common preoccupation with that still authoritative past. From these eastern and western perspectives - often peripheral and sometimes isolated - the classical past appears neither monolithic nor inflexible but as offering a set of assumptions or conventions that might be opposed or accepted, subverted or ignored or reworked into a striking variety of newly imagined worlds.
Like its predecessor, this volume will be of interest to anyone concerned with the history, literature and culture of the later Roman empire.
It stems from an international conference held in Cambridge in 2009, generously supported by the Faculty of Classics and the Henry Arthur Thomas Fund.
Free Home Delivery
on all orders
Pick up orders
from local bookshops
Also in the Proceedings of the Cambridge Philological Society Supplementary Volume series | View all