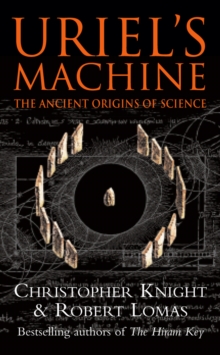 Uriel's Machine : Reconstructing the Disaster Behind Human History
Paperback
Description
* What is the standard view of history is completely wrong? * What if science and writing developed from an advanced prehistoric civilisation in the British Isles? * What is written evidence in the Dead Sea Scrolls records megalithic history and provides the plans for a machine that could rebuild civilisation following a global catastrophe? * And what if Jesus and his brother James were practitioners of megalithic astronomy?
In URIEL'S MACHINE Knight & Lomas offer powerful new evidence that our planet was hit by seven mountain-sized lumps of comet, creating a series of giant waves that ripped across the globe.
Putting together the latest findings of leading geologists with their own sensational new archaeological discoveries, they show how a civilisation emerged and was able to build an international network of sophisticated astronomical observatories which provided accurate calendars, could measure the diameter of the planet and accurately predict comet impact years in advance.
The revelation that this is the true purpose of the great megalithic sites in Western Europe, built long before the Egyptian pyramids.
Information
Format: Paperback
Pages: 624 pages
Publisher: Cornerstone
Publication Date: 05/10/2000
Category: Ancient history: to c 500 CE
ISBN: 9780099281825
Free Home Delivery
on all orders
Pick up orders
from local bookshops
Reviews
Showing 1 - 3 of 3 reviews.
Review by wyvernfriend
16/06/2015
For me this one has a mixed feeling there's shedloads of maths in it but not as much as in others of that ilk. There's leaps of faith, but again not as many, it still left me sometimes with a feeling that it's a too symplistic view of the world but also left me wondering if some of it could be true.
Review by liveinlibrary
16/06/2015
A brief nod to fact-checking would have been nice in this otherwise entertaining book. As with other books of this kind -- speculative fiction -- it makes a fun read when treated as science fiction/fantasy. There are too many obvious errors (all of which have been detailed in other, more comprehensive reviews) to truly believe any of the claims. In spite of these failings it is a thought-provoking book if you are able to completely suspend belief for the duration of the read.
Review by DinadansFriend
16/06/2015
A worthy successor to Immanuel Velikovsky, this team has concocted a rich stew of the half-baked and sinister. I love a good conspiracy theory, and this one has thrown in an interesting architectural tour of a Scottish folly. Worth the read, but don't trust it one little bit!