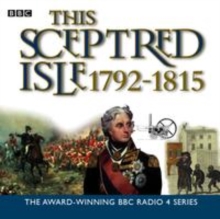 This Sceptred Isle Vol. 8: 1792-1815 Nelson, Wellington and Napoleon
eAudiobook MP3
Please note: eAudiobooks can only be purchased with a UK issued credit card.
Description
The award-winning story of Britain, from the arrival of Julius Caesar in 55BC to the death of Queen Victoria in 1901. Christopher Lee's history of Britain provides the definitive radio account of the events and personalities that have shaped our nation.
From foreign invasions and war to economic crises and social revolution, this is a compelling journey through centuries of dramatic change. Volume 8 covers the years 1792 to 1815, a time of war all over Europe which created national heroes out of Nelson and Wellington as they battled against Napoleon.
Domestically, Pitt the Younger had to cope with an Irish rebellion and a king whose sanity was in serious question. Narrated by Anna Massey, and featuring extracts from Sir Winston Churchill's 'A History of the English-speaking Peoples' read by Peter Jeffrey, 'This Sceptred Isle' is absorbing, informative and essential history.
Information
Format:eAudiobook MP3
Run-time:2 hours 26 mins
File size:134.49MB
Publisher:AudioGO Ltd
Publication Date:01/01/1900
ISBN:9781405699419