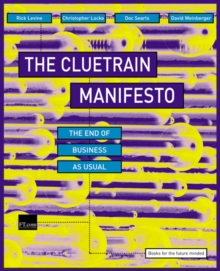 The Cluetrain Manifesto : The End of Business as Usual
Paperback
Description
Markets are conversations. Talk is cheap. Silence is fatal. "You must read the Cluetrain Manifest. So: read it , inhale it. If it pisses you off...GREAT" Tom Peters What if the real power of the Web lay not in the technology behind it, but in the profound changes it brings to the way people interact with business? And what if these changes were altering the nature of your company as profoundly as they have changed your markets?
With language as sharp and compelling as its observations. www.cluetrain.com burst unexpectedly onto the scene with 95 Theses to ignite a vibrant and viral conversation, making hash of corporate assumptions about the nature of online business.
Provocative, outrageous and wickedly smart, the manifesto has challenged executives from Global 1000 companies to sign-on or risk missing a genuine revolution. Expanding on ideas and insights first nailed up on the Web.
The Cluetrain Manifesto both signals and explores a sea change already nearing flood tide in today's wired world.
Through the Internet, people are discovering new ways to share relevant knowledge with blinding speed.
As a result, markets are getting smarter than most companies.
Whether management understands it or not, networked employees are an integral part of these borderless conversations.
Today, customers and employees are communicating with each other in language that is natural, open, direct and often funny.
Companies that aren't engaging in them are missing an unprecedented opportunity. A rich tapestry of anecdotes, object lessons, parodies, insights and predictions.
The Cluetrain Manifesto illustrates how the Internet has radically reframed the "immutable laws" of business - and what business needs to know to weather the seismic aftershocks. "When people in networked markets can get faster and smarter information from one another than from the companies they do business with, it may be time to close shop. Or, maybe it's just time to get on The Cluetrain and fully understand that your customers are living, breathing creatures who want one-to-one relationships with your company, not just one-way rhetoric." Don Peppers, co-founder of Peppers and Rogers Group, and co-author of The One to One "For every consumer-products company wondering why its internet marketing doesn't seem to be working" Business Week "The most important business book since in Search of Excellence.
Get a clue. Read the book"Information Week..." " Most marketing campaigns are based on the fear that the market might see what's really going on isnide the company. Sound familiar? If it does then you've already come across the Cluetrain Manifesto......
If you haven't already then you should make it your business to do so....
Until big brands embrace more of the Cluetrain thinking, the anti-capitalist rioters might just have a point." Campaign, August 2001
Information
Format: Paperback
Pages: 224 pages
Publisher: Pearson Education Limited
Publication Date: 17/05/2000
Category: Business strategy
ISBN: 9780273650232
Free Home Delivery
on all orders
Pick up orders
from local bookshops
Reviews
Showing 1 - 1 of 1 reviews.
Review by plasticspam
16/06/2015
The Cluetrain Manifesto is a book that was written in 2000. Although its only six years ago, this book seems ahead of its time. quite simply, Cluetrain talks the politics and ethos of web 2.0 and library 2.0.Why I hear you ask? Or perhaps you don't. Well the Cluetrain manifesto discusses the importance of the web as a form of social networking. The four different writers of the book set up a 95 point theses, and number 9 goes as follows:-'Networked conversations are enabling powerful new forms of social organisation and knowledge exchange to emerge.'The Cluetrain manifesto is a very good read. Some of it is a bit 'pie in the sky' (who remembers 95 different principles?). But it does point out that social networking in bussiness is good and the new way of aiding business and end users.I got this for an amazing £2.76 on AmazonThis was second hand as well. But i would highly recommend the book.
Also in the Financial Times Series series | View all