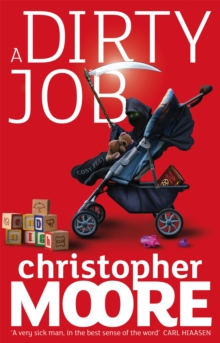 A Dirty Job : A Novel
Paperback
Description
Charlie Asher is a pretty normal guy. A little hapless, somewhat neurotic, more of a Beta than an Alpha Male.
Charlie's been lucky, though. He owns a building in the heart of San Francisco, and runs a second-hand store with the help of a couple of loyal, if marginally insane, employees.
He's married to a bright and pretty woman who actually loves him for his normality. And she, Rachel, is about to have their first child.
But normal service is about to be interrupted. As Charlie prepares to go home after the birth, he sees a strange man dressed in mint-green at Rachel's hospital bedside - a man who claims that no one should be able to see him.
But see him Charlie does, and from here on out, things get really weird. . . .People start dropping dead around him, giant ravens perch on his building, and it seems that everywhere he goes, a dark presence whispers to him from under the streets.
Strange names start appearing on his nightstand notepad, and before he knows it, those people end up dead, too.
Yep, it seems that Charlie Asher has been recruited for a new job, an unpleasant but utterly necessary one: Death.
It's a dirty job. But hey, somebody's gotta do it.
Information
Format: Paperback
Pages: 448 pages
Publisher: Little, Brown Book Group
Publication Date: 07/06/2007
Category: Fantasy
ISBN: 9781841496030
Free Home Delivery
on all orders
Pick up orders
from local bookshops
Reviews
Showing 1 - 5 of 5 reviews.
Review by Releanna
16/06/2015
great fun, but reminds me a bit of Pratchett's DEATH
Review by SonicQuack
16/06/2015
So many great ideas get wasted, but in Christopher Moore's deft hands, a great idea becomes a really enjoyable read, from cover to cover. Packed with wry, sarcastic, deadpan and cutting edge humour, Moore tickles us with an off-kilter tale about Death Merchants. The people responsible for giving souls homes - but what if you never got the manual? What if the Apocalypse was due? And what if it was your fault? A Dirty Job pulls no punches as Moore, once again, finds new material, with cameos from previous books, and takes every opportunity to take shots at our culture, society and crazy mixed up world. An easy recommendation - prepare to break in to a grin.
Review by litaddictedbrit
16/06/2015
This was the first book of Christopher Moore's that I've read and I really enjoyed it! It really reminded me of (and I apologise if I inadvertently upset someone here) of Terry Pratchett, without as much of the fantasy. Not, of course, that this story hummed with realism but it was based in San Francisco so it's closer than Discworld! What I am referring to is the humour - it's dark and adult but also just downright silly in places, which was perfect! It prompted my boyfriend on a number of occasions to ask what on earth I was laughing at…out loud…on a bus…While I don't appreciate the odd stares while I'm commuting,I do like starting the day with a chuckle. I loved how warm all the characters were, with the exception of 'the Morrigan' - a trio of devil women hell-bent on ruining Charlie's...well...world! Charlie was very enlightening as a 'Beta Male' and Sophie was just adorable (I'm a sucker for a cute baby…) and I loved that through it all they were just a father and daughter trying to get through life without their wife/mother. Basically, this novel is just fun - the whole cast of "death merchants" (but not Death, you know, with a capital 'D') whose job it is to retrieve and distribute soul vessels is fantastic, particularly Minty Fresh - the scene where Charlie first goes to visit him after finding out about his new vocation was one of my favourites in the book. Overall: I love Pratchett's novels so this was an easy one for me to enjoy - I would recommend it to anyone with a slightly dark sense of humour looking for a light(ish) read.
Review by dmsteyn
16/06/2015
This is a very funny book, but it has its faults. Charlie Asher is a happily-married, self-avowed Beta male, whose wife, Rachel, has just given birth to their first child, Sophie. After he (reluctantly) leaves the hospital to go rest, he finds his wife's Sarah McLachlan CD in the car. He decides to take the CD back to her, but when he enters the room, he sees a large man in a green jumper looming over his wife. Obviously, Charlie is surprised, and then worried. But not as much as Minty Fresh (don't ask), the aforesaid large-man-in-a-green-jumper. Charlie is not supposed to be able to see Minty, because Minty is a self-styled Death Merchant: he collects the soul objects from the recently deceased, and then delivers them to those in need of a soul. Now, with a dead wife, a new daughter, and a hole heap of problems, Charlie must learn the trade of Death Merchant before the Forces of Darkness can lay claim to the surface world.This is quite an entertaining premise, although the role of the soul objects could have been fleshed out a bit more – the Death Merchants just keep them in their stores until the right person coincidentally comes along. Moore can be very funny, and luckily avoids scatological humour (for the most part). He does make quite a few non-PC jokes, usually involving sex, but that did not bother me inordinately. The book is, however, a bit long at 430 pages, and could have done with a trimming. Moore's musings on the Beta male psychology is quite entertaining – maybe because it seemed a tad, ahem, applicable to my own situation. His introduction of speculative content is done well for the most part, though he does take extreme liberties in mixing his mythologies: he uses the Morrigan, Orcus, Buddhist eschatology, and more. One gets the sense at times that he was just introducing things for the hell of it, especially near to the end of the book.The only substantial problem I had with the book also came near to the end of the book. Moore introduces a character with powers that completely unbalances the ending. While the Death Merchants only kept custody of the soul objects, this character causes the ending to lack any real tension. Moore also ends the book on a jarringly 'humorous' note which, despite the humorous tone of the book, did not quite fit with the more serious mood of the rest of the ending.I enjoyed this book, and will try more of Christopher Moore's work in the future. Hopefully, his other books are more streamlined and less improvisational.
Review by JessicaSim
23/09/2015
This book was recommended to me as a cheerful read when I was feeling rather stunted and generally annoyed with everything. And low and behold, despite the seemingly not at all cheerful premise and rather gloomy and dark events it did lift me from my looming depression and with a new lust for reading.The idea that souls can ingrate themselves into a cherished object upon their owners deaths is reminiscent of Warehouse 13. But unlike in that TV show, here the hunt for the haunted objects is not lead by a highly specialised governmental organisation but rather left to untrained, uninformed and maybe even unwilling individuals. Becoming a soul retriever is not something you choose, it is something that happens to you (for apparently unclear reasons). Once a person becomes a so-called death merchant, he or she might receive a set of instructions based on the collective experience of their predecessors but that is all.That is a mighty responsibility! How would one cope? Especially when also entrusted with the care of a young child. Our protagonist does not handle it all very elegantly but certainly tries. On his way, he meets people he never thought he would interact with, but his new found allies bring him further than he would have gotten by himself. The two hounds of hell are my absolute favourites in this story! They lead to many hilarious scenes. How practical it would be to actually be able to feed your dogs whatever is nearby and still have such healthy and lively pets. The story in itself is not as strong as it could have been. I do hope that the ending and the mere existence of the (horrible sounding) squirrel people will prove satisfying in the sequel, which luckily almost comes out. There are many plot holes and unanswered questions. Maybe the interesting premise of life and death, and what constitutes a soul makes the readers expect more clarity than usual. Why bring these topics up if you do not have something interesting to bring to the table? This could be why the inconsistencies stand out so much. They did not take away from the reading pleasure however and might be vindicated in the second instalment of this story. Throughout the language use is excellent, well-paced and whimsical. This is a fun read and I would recommend it to anyone.