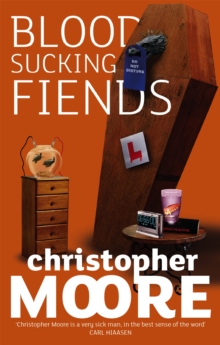 Bloodsucking Fiends
Paperback
Description
Jody never asked to become a vampire. But when she wakes up under an alley Dumpster with a badly burned arm, an aching neck, superhuman strength, and a distinctly Nosferatuan thirst, she realises the decision has been made for her.
Making the transition from the nine-to-five grind to an eternity of nocturnal prowlings is going to take some doing, however, and that's where C.
Thomas Flood fits in. A would-be Kerouac from Incontinence, Indiana, Tommy (to his friends) is biding his time night-clerking and frozen turkey bowling in a San Francisco Safeway.
But all that changes when a beautiful, undead redhead walks through the door ...and proceeds to rock Tommy's life - and afterlife - in ways he never imagined possible.
Information
Format: Paperback
Pages: 368 pages
Publisher: Little, Brown Book Group
Publication Date: 03/08/2006
Category: Fantasy
ISBN: 9781841497228
Free Home Delivery
on all orders
Pick up orders
from local bookshops
Reviews
Showing 1 - 1 of 1 reviews.
Review by AdonisGuilfoyle
16/06/2015
I thought I had worked my way through the vampire genre last year, but reading an incidental review of <i>Bite Me</i>, another book in Christopher Moore's spoof series, tempted me back for one last bite (why are vampire puns so hard to resist?) Being a methodical kind of girl, however, I thought I would start with the first novel, <i>Bloodsucking Fiends</i>, which turned out to be a quick and entertaining read. Not enough to make me a fan, or download the other two ebooks in the same vein (sorry), but good fun.Actually, when I say 'fun', I mean I enjoyed the light-hearted take on the novels of Anne Rice, Bram Stoker et al, but not so much Moore's attempts at comedy subplots, which are so dated and childish that they belong on an American sitcom (the mother-in-law from hell drops by, and hijinks in the bathroom with two snapping turtles - cue canned laughter). Peppering the main narrative with the occasional sarcastic one-liner and irreverent analogy works far better. That said, when Moore wasn't trying to be funny, I quite enjoyed the story - well, I read the whole thing in an afternoon, so something must have been working for me! Some of the characters were stronger than others - Jody the novice vampire, adjusting then learning to appreciate her new lifestyle, the eccentric tramp and his dogs, and the two exasperated detectives were all sympathetic and amusing in balanced measures. Tommy the wannabe writer from Indiana and the 'Animals' working the night shift with him at the local supermarket - not so much. The ending was also pretty ridiculous, seemingly inspired by <i>The Goonies</i>, and the vampire cop-out (only killing the terminally ill) was unnecessary.Apart from those few minor niggles, though, Christopher Moore's novel helped pass a slow afternoon, and also brought back to life my taste for the undead (I'll stop now).