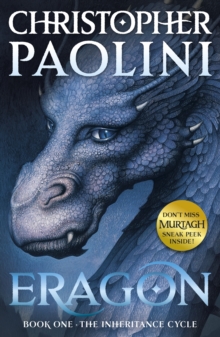 Eragon : Book One
Paperback
Description
One boy . . . One dragon . . . A world of adventure. When Eragon finds a polished stone in the forest, he thinks it is the lucky discovery of a poor farm boy; perhaps it will buy his family meat for the winter.
But when the stone brings a dragon hatchling, Eragon soon realizes he has stumbled upon a legacy nearly as old as the Empire itself.
Overnight his simple life is shattered and he is thrust into a perilous new world of destiny, magic and power.
With only an ancient sword and the advice of an old storyteller for guidance, Eragon and the fledgling dragon must navigate the dangerous terrain and dark enemies of an Empire ruled by a king whose evil knows no bounds.
Can Eragon take up the mantle of the legendary Dragon Riders?
The fate of the Empire may rest in his hands...
Information
Format: Paperback
Pages: 528 pages
Publisher: Random House Children's Publishers UK
Publication Date: 03/01/2005
Category: Fantasy
ISBN: 9780552552097
Other Formats
Paperback from £7.65
EPUB from £4.99
Free Home Delivery
on all orders
Pick up orders
from local bookshops
Reviews
Showing 1 - 5 of 15 reviews.
Previous | Next
Review by wyvernfriend
16/06/2015
Oh wow. What a story. Good Fantasy with great characters.
Review by roxy
16/06/2015
Review by moggyandme
16/06/2015
Really enjoyed this book although the similarities to Lord of the Rings terminology was very rampant
Review by rocalisa
16/06/2015
I was blown away by this book. Unfortunately, I can't put my finger on why, which makes reviewing it kind of difficult. Paolini has taken a number of fantasy standards - dragons, magic, evil kings, elves, dwarves - and woven them together into his own, unique tale. And rather than showing the seams where everything has been joined, the story is solid and strong, linked together and internally consistent. Eragon is a good protagonist (although I thought he became a master swordsman way too easily), both competent and inexperienced, clever but also stupid at times and plain lucky to get out of it. He has the mysterious parentage required of a young fantasy hero, but it is left as a curiosity at this point (although I certainly want to know the answer) and isn't hammered into us too often. His companions complement his and all have a role to play in the story rather than being there for the sake of it. Brom is the wise teacher (again with a mystery of his own) who takes Eragon under his wing and guides him into his destiny. I suspect we haven't learned all his secrets yet and his influence is far from over. Murtagh arrives at an opportune moment and proves himself to be a strong ally, although I suspect his ambivalent position is far from resolved. And then of course, there is Saphira, Eragon's dragon. She is lovely, young and learning and yet wise. Magical but with no idea of how or why, she is Eragon's faithful partner, but doesn't hesitate to tell him when she things, especially if she doesn't agree with him. Even the minor characters are rich and alive and I hope we see more of people like Angela, Orik and Solembum in the upcoing books. Paolini also proves that he is willing to kill of characters for the sake of the story, no matter how much the readers might be upset about it, and refuses to fall into clichés when it would be all to easy to do so. I suspect that our 'good guys' will turn out to be far from perfect, although still an improvement over the 'bad guys'. I'm sure Paolini has more surprises up his sleeve for us and I'm eager to discover them. I've gone and ordered the newly-published sequel in hardcover because I can't wait for the paperback to find out what happens next.
Review by pshaw
16/06/2015
While a lot of people are thrilled by this novel, I found it to be ho-hum same old fantasy plot without much new or interesting to recommend it. It could easily be an Anne McCaffery fanfic, if writing McCaffery fanfic wasn't a hanging offense. There's a lot more engaging, different-thinking fantasy out there - don't waste your time here.
Also in the The Inheritance Cycle series | View all