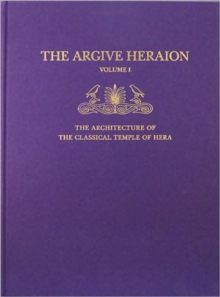 The Architecture of the Classical Temple of Hera
Hardback
Description
This volume is the first in a series providing detailed and up-to-date analyses of excavations and fieldwork conducted over more than a century at the Argive Heraion, site of a succession of religious buildings high above the plain of Argos.
The book opens with an overview of the site's excavation history, including photographs taken during the investigations of the 1890s.
The first few chapters fully reconstruct the classical temple from bottom to top, using the evidence of the existing foundations and the fragments of the architectural elements of the superstructure.
These discussions are supported by an illustrated catalogue of the known architectural fragments, detailed and contextual site photographs, tables, actual-state drawings, and graphic reconstructions.
The following chapters examine the style of the temple, in particular its blending of Peloponnesian and Attic features, to place the building within its historical, geographical, and political contexts.
Four appendixes, including a note on the foot-module of the temple and a report on the scientific analysis of the temple's marbles, complete the volume.
This work, the first monograph devoted solely to the Classical temple and the first concerning the site to be published in more than 50 years, will be the definitive source for scholars and students investigating the buildings of the Argive Heraion and a vital tool for those researching architectural trends of the period.
Information
Format: Hardback
Pages: 397 pages, 209 figs, 24 tbs
Publisher: American School of Classical Studies at Athens
Publication Date: 02/10/2003
Category: European history
ISBN: 9780876618011
Also by Christopher Pfaff