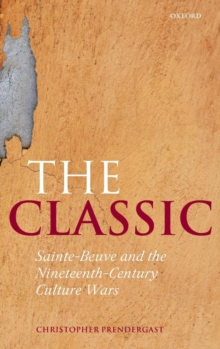 The Classic : Sainte-Beuve and the Nineteenth-Century Culture Wars
Hardback
Description
Focusing on a moment and a source in nineteenth-century France, Christopher Prendergast takes up a big question that is still with us: What is a classic?
The question is, by virtue of its insistent recurrence, itself a classic question.
It returns to haunt us. It provided the title of a text for French critic Charles-Augustin Sainte-Beuve in 1850 ('Qu'est-ce qu'un classique?'), as it did in the twentieth century for T.S.
Eliot and John Coetzee. Centring onSainte-Beuve in his nineteenth-century context, Prendergast's inquiry takes us historically to many places (antiquity, the middle ages, the seventeenth and eighteenth as well as the nineteenth and early twentieth centuries).
He also provides an intellectual history that travels across multiple disciplinaryterritories (in addition to literary criticism and literary history, classical studies, comparative philology, historiography and political thought).
Against this background, The Classic maps the evolution of Sainte-Beuve's thought from an initially cosmopolitan conception of the classic (close in spirit to Goethe's notion of Weltliteratur) to an increasingly nationalist conception, with a strong emphasis on the heritage of Latinity and France as its principal legatee.
This emphasis was taken up by the extreme right in France after Sainte-Beuve's death, in a determined mobilizing of a version of the 'classic' on behalf of aproto-fascist agenda.
The final chapter deals with this appropriation and ends with a question of our own about Sainte-Beuve's original question: in the light of this bleak history, perhaps the time has come to dispense with the term 'classic' altogether.
Free Home Delivery
on all orders
Pick up orders
from local bookshops
Also by Christopher Prendergast | View all