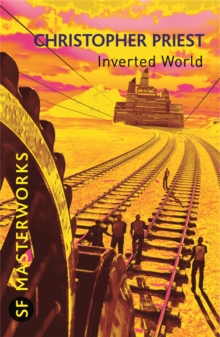 Description
A uniquely powerful novel of a society in decay. On a planet whose very nature is a mystery a massive decrepit city is pulled along a massive railway track, laying the line down before it as it progresses into the wilderness.The society within toils under an oppressive regime, its structures always on the point of collapse, the lives of its individuals lived in misery.
No one knows where they are going, why they are going or what they will find when they get there.The ending of the novel provides one of the most profound twists in SF.
Information
Format: Paperback
Pages: 304 pages
Publisher: Orion Publishing Co
Publication Date: 13/05/2010
Category: Science fiction
ISBN: 9780575082106
Free Home Delivery
on all orders
Pick up orders
from local bookshops
Reviews
Showing 1 - 2 of 2 reviews.
Review by clfisha
16/06/2015
Imagine a city that must forever move forward, winched along it's old re-used tracks. To ensure this happens it's rulers have created a closed, fundamentalist society, a hidden world where only the few will ever be allowed outside to know that it moves and why this must be so.Whether you'll like this depends on what you need from a book. For this 70's sci-fi the world is all: the plot, the characters and their conversations all feed into the world building and this leaves time for very little else. Now this isn't really my type of thing but even I have to admit it's a good, satisfying story with a premise that even after all this time I found original and interesting.Set into four parts which meander from 1st to 3rd person presenting differing views, we gradually get a very believable view of this strange world. However his 1st section build up takes an age to get anywhere and the main characters has the misfortune of being the cipher in which we explore the city i.e. not very fleshed and and he is also amazingly attractive to all women.In fact flagging how awful of sexual inequality is juxtaposed with the inherent misogyny brings out the teeth grinding in me. Ahem. Anyway halfway through the book we swap out of 1st person and suddenly the story takes off and the plot becomes quite gripping. The slow build up then starts to work well in its favour as we are so grounded in the world and it builds up to what is a very very cool ending. It's just a pity about the beginning.If you are lover of idea based sci-fi then this book is for you, everyone else will spend an interesting few hours with a neat idea. Oh hard sci-fi fans I have no idea if it all holds up.
Review by TPauSilver
16/06/2015
Inverted World is an exercise in world building. Through an apprentice we are introduced to the guild system that runs the city of Earth and then to the truth about the city and why it must always move forward. I don't normally go in for world building novels but this one is really interesting. The world is complex and interesting and there are enough twists to keep you reading even though the main character falls a little flat.
Also in the S.F. Masterworks series | View all