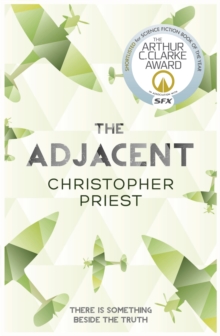 Description
Tibor Tarent, a freelance photographer, is recalled to Britain from Anatolia where his wife Melanie has been killed by insurgent militia.
IRGB is a nation living in the aftermath of a bizarre and terrifying terrorist atrocity - hundreds of thousands were wiped out when a vast triangle of west London was instantly annihilated.
The authorities think the terrorist attack and the death of Tarent's wife are somehow connected.
A century earlier, a stage magician is sent to the Western Front on a secret mission to render British reconnaissance aircraft invisible to the enemy.
On his journey to the trenches he meets the visionary who believes that this will be the war to end all wars.In 1943, a woman pilot from Poland tells a young RAF technician of her escape from the Nazis, and her desperate need to return home.
In the present day, a theoretical physicist stands in his English garden and creates the first adjacency.
THE ADJACENT is a novel where nothing is quite as it seems.
Where fiction and history intersect, where every version of reality is suspect, where truth and falsehood lie closely adjacent to one another.It shows why Christopher Priest is one of our greatest writers.
Information
Format: Paperback
Pages: 432 pages
Publisher: Orion Publishing Co
Publication Date: 10/04/2014
ISBN: 9780575105386
Free Home Delivery
on all orders
Pick up orders
from local bookshops
Reviews
Showing 1 - 2 of 2 reviews.
Review by AlanPoulter
16/06/2015
This novel was a (nice) suprise. Previous novels and story collections have been somewhat bleak, set in a world made up of two warring states and a sprawling archipelago of many islands which have a semi-mystical existence, where normality and fantasy meet and merge. Names and places are fluid. Time and space can also work in strange ways. The only guaranteed element is an event linked to a stage magic performance.This novel opens with a photographer working in a war zone seeing his partner disappear in a strange explosion which leaves behind a strange triangulalar marker. He is then taken back to London for a debriefing and sees on the way a fleeting image of a destroyed suburb. Although this is not the standard archipelago setting, something is awry as GB is now the IRGB. The photograghper is intent on finding out what happened to his wife and this starts a plot line which twists and turns, but which falls into a pattern of X searching Y, Y searcing for Z etc. Time periods change from the near future to both World Wars, while a Polish female fighter fighter pilot, H.G.wells and the inventor of 'Adjacency' figure as characters,The archipeligo itself only figures fleetingly, the island visited looking both a slum and a utopia for the wealthy, to the two characters who visit.The ending was complely unexpected, being extremely emotional, with a heroic flight in a Spitfire and a real romantic charge.
Review by RobertDay
27/08/2015
In this novel, Priest revisits a number of themes from his entire writing career - the politically changed England of 'Fugue for a Darkening Island' and 'A Dream of Wessex', characters from 'The Prestige' and 'The Space Machine', an elegiac World War II flying story, recalling 'The Separation'; and, of course, his 'Dream Archipelago' stories. His merging of these diverse themes into a coherent story is, in itself, a literary conjuring trick; and the linking of these stories (mainly) through the agency of the Adjacency weapon, or effect, is not as straightforward as it seems, as the universes so linked are not interchangeable. Characters exist in one reality and not another; or they have one identity in one reality and a different one in another.The story centres on Tibor Tarent, a photographer who has lost his wife whilst on voluntary service overseas in a near-future world. He has various adventures with different women, as well as with himself, and by the end he achieves a sort of peace and fulfillment. The weird events are merely the backdrop.I found this a little worrying, not in a literary sense but for what it portends. Usually, when an author tries to draw all the threads of their writing career into a single narrative, it portends a writer drawing to the end of their career. I hope that this is not the case here.