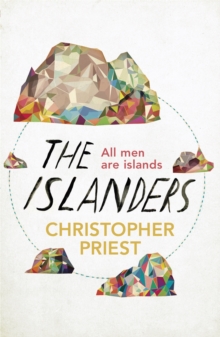 Description
A tale of murder, artistic rivalry and literary trickery; a chinese puzzle of a novel where nothing is quite what it seems; a narrator whose agenda is artful and subtle; a narrative that pulls you in and plays an elegant game with you.The Dream Archipelago is a vast network of islands.
The names of the islands are different depending on who you talk to, their very locations seem to twist and shift.
Some islands have been sculpted into vast musical instruments, others are home to lethal creatures, others the playground for high society.
Hot winds blow across the archipelago and a war fought between two distant continents is played out across its waters.THE ISLANDERS serves both as an untrustworthy but enticing guide to the islands, an intriguing, multi-layered tale of a murder and the suspect legacy of its appealing but definitely untrustworthy narrator.It shows Christopher Priest at the height of his powers and illustrates why he has remained one of the country's most prized novelists.
Information
Format: Paperback
Pages: 352 pages
Publisher: Orion Publishing Co
Publication Date: 13/09/2012
Category: Fantasy
ISBN: 9780575088641
Free Home Delivery
on all orders
Pick up orders
from local bookshops
Reviews
Showing 1 - 3 of 3 reviews.
Review by AlanPoulter
16/06/2015
I would recommend reading the short stories in The Dream Archipelago before attempting this book. They introduce the setting for the Dream Archipelago, a constellation of islands which stand off the coast of two warring blocs and which seem to have almost personalities of their own. The Islanders initially appears as a travel guide, with entries on the various islands in the Dream Archipelago. Yet these entries tell us little that is not either confusing or contradictory. The names of the islands are particularly useless as they all seem to blend together, rather than stand out. The Guide as well soon becomes untrustworthy as its purported author appears as a character in some of its entries for islands. And there are a small cast of characters that re-appear in different entries, some more or less consistent than others in their motivations and actions. The strangest tale, which re-appears the most, is that of the apparent murder of a mime artist, done using a plate of glass in a theatre. Would something as unlikely as this actually occur? Add some brilliant stories that plough very different furrows: a romance in a secret base of one of the Powers trying to use technology to map the islands (unsuccessfully), the awful wildlife on another island and the true nature of the old, empty towers on some islands, and you have a classic, about our world but not of it. Even the winds are different enough to have names in the local patois and a person (both revered and reviled) who builds 'sculptures' to channel them for artistic effects.Every thing is named, but the names mean nothing.
Review by JBD1
16/06/2015
This one reminded me a bit of some of Jeff VanderMeer's works, in a good way. While the constantly-shifting perspectives and narrations were a little jarring at first, it ended up being a great pleasure to try and puzzle out what was happening. Highly enjoyable, and Priest's created a fantastic and very strange world.
Review by Hobbitlass
27/08/2015
This is a very unusual book; almost more a short story collection than a novel, and yet not that either.The story of each island twists and turns, and becomes more confusing and more enlightening in turns, and sometimes quite disturbing. The earliest stories (island entries in the supposed travelouge) seem to be fairly straight forward, and not connected, but many of the protagonists will appear again, in other stories. I was very intrigued by the way a story would turn out to be quite different when it was revisited from a different angle, raising questions about "what is truth" I guess. Some stories are not followed up on - the island of Seevl with the mysterious towers had the greatest impact on me, I can't stop thinking about it, but no answer is provided as to what happened.All in all, I thought it was extremly interesting, but most people I have recommended it too have been confused or put off and much less enthusiastic!