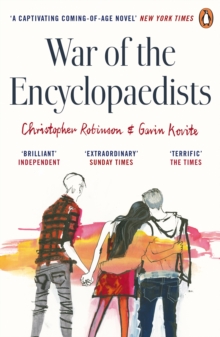 War of the Encyclopaedists
Paperback / softback
Description
A smart, fresh tale for the millenial generation - about going to university, going to war, and growing upIt was the Friday before Independence Day and the twentysomethings of early-millennium Seattle were celebrating alcohol and freedom as they had done every Friday since time immemorial.
On Fifteenth Avenue, in Capitol Hill, Mickey Montauk and Halifax Corderoy were hosting their sixth event as "The Encyclopaedists"... Meet Mickey Montauk and Halifax Corderoy. On their own, they are two kids kicking around town after the end of high school, getting drunk and high and waiting for life to begin.
Together, for one glorious, immortal summer, they are the Encyclopaedists: infamous hosts of the wildest parties Seattle has ever seen.
But what will happen when the summer ends?Autumn comes and life intervenes: the two friends find themselves flung worlds apart.
Mickey's National Guard unit are deployed abroad and Hal must take up his place at college in Boston.
All that remains of their old life is their last great in-joke, a nonsensical Wikipedia entry about themselves, The Encyclopaedists. Out in Baghdad, Mickey finds himself in the middle of a brutal war that has no place for laid-back, sensitive youths or ironic webpages.
Back in the US, Hal is marooned in the anonymity of the freshman college experience, rapidly realising the parties just aren't the same without his old partner in crime. And on top of all the upheavel there is Mani, Hal's bewitching, suddenly-homeless sort-of girlfriend... In their first year as adults, these three characters will be transformed into people they would never have recognised - and might not even have let through the door - on the eve of Independence Day on Capitol Hill. Razor-sharp, urgent and authentic, this is the story of a generation at a crossroads, staring down the barrel of adulthood and trying desperately not to blink. 'Extraordinary... An extremely moving story that feels as if it has something urgent to say about how we live now' Sunday Times
Information
Format: Paperback / softback
Pages: 448 pages
Publisher: Penguin Books Ltd
Publication Date: 05/05/2016
ISBN: 9780241146798
Free Home Delivery
on all orders
Pick up orders
from local bookshops