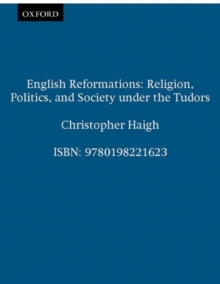 English Reformations : Religion, Politics, and Society under the Tudors
Paperback
Description
English Reformations takes a refreshing new approach to the study of the Reformation in England. Christopher Haigh's lively and readable study disproves any facile assumption that the triumph of Protestantism was inevitable, and goes beyond the surface of official political policy to explore the religious views and practices of ordinary English people. With the benefit of hindsight, other historians have traced the course of the Reformation as a series of events inescapably culminating in the creation of the English Protestant establishment. Dr Haigh sets out to recreate the sixteenth century as a time of excitement and insecurity, with each new policy or ruler causing the reversal of earlier religious changes. This is a scholarly and stimulating book, which challenges traditional ideas about the Reformation and offers a powerful and convincing alternative analysis.
Information
Format: Paperback
Pages: 380 pages
Publisher: Oxford University Press
Publication Date: 22/04/1993
Category: British & Irish history
ISBN: 9780198221623
Free Home Delivery
on all orders
Pick up orders
from local bookshops
Reviews
Showing 1 - 1 of 1 reviews.
Review by mattries37315
16/06/2015
Christopher Haigh's book, English Reformations, begins by showing that before 1530 there was no strong undercurrent for the Protestant Reformation in England in fact the exact opposite was true as Catholic England was going strong. Unlike the general historical belief that once Henry VIII broke with Rome a Protestant England would be the result, Haigh shows it was never the case especially when documenting the reign of Mary I when the majority of the English welcomed a return to the Roman Catholic Church.Haigh presents that development of a Protestant minority in England started when Thomas Cromwell brought Protestant elements little-by-little into Henry's decision to break with Rome then promoted them even after Henry's natural conservative religious views came into play. The Protestant minority truely came into being during the reign of Edward VI when his Protectors and Council systematically made the Church of England more Protestant. After surviving the reign of Mary, the Protestants overreached at the beginning of Elizabeth's reign when they tried to overhaul the Church of England in one-fell swoop instead of the step-by-step approached used by Crowmell and under Edward, and it was this overreached that most likely created the mixture of Reformed Protestant and Catholic beliefs that are present in the Anglican Church.Haigh's conclusions and the evidence he presents shows that after all these "reformations" England was Christian, it just wasn't really majority Protestant or Catholic. And when considering the religious and political developments in Great Britain from 1603 to 1714 under the Stuarts along with the various colonies on the eastern coast of North America, this conclusion seems to be correct.