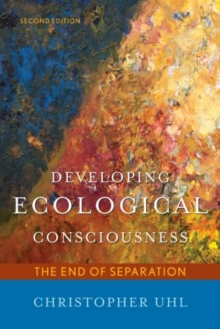 Developing Ecological Consciousness : The End of Separation
Paperback / softback
Description
Developing Ecological Consciousness is a marked departure from those standard environmental studies texts strongly focused on actions that humans need to take to fix the environment. Christopher Uhl explores the path to living in harmony with Earth, and believes it begins - not with fixing the environment - but with fixing ourselves - specifically our perceptions about Earth. Using findings from science and his own life experience Uhl explains how all our environmental and social problems - e.g., climate change, species extinction, environmentally-linked cancers, genocide, deforestation - are rooted in separation - the severing of relationship between ourselves and the environment.
As an antidote to separation, this book is an invitation to see everything - Earth, Cosmos, Sun, Worm, Bee -- as well as each other and our very selves with "new eyes.
This new look through the lens of relationship and interdependence reminds us of the larger ecological truth - namely: that we are a part of, not apart from Earth. Indeed, at every level, from the sub-atomic to the cosmic, it is an interdependent relationship that defines reality.
Uhl places a large focus on healing throughout the book.
As we break away from the old story of hyper-individualism, unrestrained growth, control and consumption, we move to a new story of human realization.
Ultimately, this new story reveals that by making peace with ourselves and each other, we gain the capacity to make peace with Earth, delighting in the realization that Earth is our larger body, the sacred whole that we dwell within.
Developing Ecological Consciousness successfully exposes the realization that must take place in order to rejoin the community of life; after all, the world was not made for us, but rather, it is we who have been made for the world.
Information
Format: Paperback / softback
Pages: 288 pages
Publisher: Rowman & Littlefield
Publication Date: 14/03/2013
Category: Ecological science, the Biosphere
ISBN: 9781442218321
Other Formats
EPUB from £97.20
Hardback from £59.75
Free Home Delivery
on all orders
Pick up orders
from local bookshops
Also by Christopher Uhl