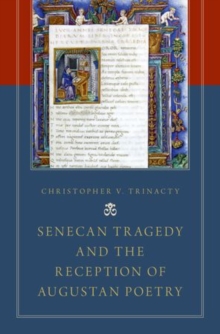 Senecan Tragedy and the Reception of Augustan Poetry
Hardback
Description
In their practice of aemulatio, the mimicry of older models of writing, the Augustan poets often looked to the Greeks: Horace drew inspiration from the lyric poets, Virgil from Homer, and Ovid from Hesiod, Callimachus, and others.
But by the time of the great Roman tragedian Seneca, the Augustan poets had supplanted the Greeks as the "classics" to which Seneca and his contemporaries referred.
Indeed, Augustan poetry is a reservoir of language, motif, andthought for Seneca's writing.
Strangely, however, there has not yet been a comprehensive study revealing the relationship between Seneca and his Augustan predecessors.
Christopher Trinacty's Senecan Tragedy and the Reception of Augustan Poetry is the long-awaited answer to the call for such a study.
Senecan Tragedy and the Reception of Augustan Poetry uniquely places Senecan tragedy in its Roman literary context, offering a further dimension to the motivations and meaning behind Seneca's writings.
By reading Senecan tragedy through an intertextual lens, Trinacty reveals Seneca's awareness of his historical moment, in which the Augustan period was eroding steadily around him.
Seneca, looking back to the poetry of Horace, Virgil, and Ovid, acts as a critical interpreter of boththeir work and their era.
He deconstructs the language of the Augustan poets, refiguring it through the perspective of his tragic protagonists.
In doing so, he positions himself as a critic of the Augustan tradition and reveals a poetic voice that often subverts the classical ethos of that tradition.
Through thisprocess of reappropriation Seneca reveals much about himself as a playwright and as a man: In the inventive manner in which he re-employs the Augustan poets' language, thought, and poetics within the tragic framework, Seneca gives his model works new-and uniquely Senecan-life.
Trinacty's analysis sheds new light both on Seneca and on his Augustan predecessors.
As such, Senecan Tragedy and the Reception of Augustan Poetry promises to be a groundbreaking contribution to the study of both Senecan tragedy and Augustan poetry.
Information
Format: Hardback
Pages: 272 pages
Publisher: Oxford University Press Inc
Publication Date: 29/05/2014
Category: Literary studies: poetry & poets
ISBN: 9780199356560
Free Home Delivery
on all orders
Pick up orders
from local bookshops