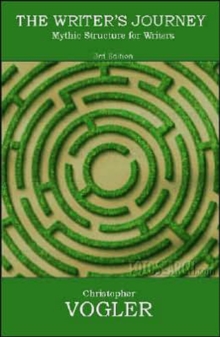 The Writer's Journey : Mythic Structure for Writers
Paperback
Information
Format: Paperback
Pages: 300 pages, illustrations
Publisher: Michael Wiese Productions
Publication Date: 01/11/2007
ISBN: 9781932907360
Free Home Delivery
on all orders
Pick up orders
from local bookshops
Reviews
Showing 1 - 5 of 7 reviews.
Previous | Next
Review by PointedPundit
16/06/2015
Great stories contain common elements. Christopher Vogler at the beginning of The Writers Journey calls upon the psychological writings by Carl Jung and the myth making philosophy of Joseph Campbell to explain why certain scenarios sell. In doing so, he prepares a blueprint for creating mythic stories.Now in its Third edition, The Writer's Journey describes the models common in the hero's journey. In the book's first section, Vogler describes different kinds of characters who appear in stories. In the second, he discusses the stages of the journey through which the hero generally passes. The final, supplementary portion of the book explains how films like Titanic and The Full Monty follow these patterns.Vogler is thought-provoking and insightful. Combine the lessons in this book with those from Rust Hills' [[ASIN:0618082344 Writing in General and the Short Story in Particular]] and you have the literary foundation for penning saleable stories.Penned by the Pointed PunditFebruary 24, 20083:34:13 PM
Review by olivetwist
16/06/2015
Talk about a journey. Over the course of this book the writing took a brutal tumble from informative and interesting to ridiculous fluff. I went from happily staying up late to boredom and eye-rolling to disgust and finally actual anger while reading. Vogler's 370-page supposed guide to story-writing, set on the solid foundation of Joseph Campbell's work (reviewed here in the worthwhile first 70 pages), is a joke. It's a waste of time and insult to the reader, with indulgently superficial skimming of truly profound fields to back up his vague and meandering ideas.Vogler seems perfectly unaware of the worthlessness of his repeated example of an unspecific, universal and ancient tribe with vague traditions and rituals from which all our storytelling must follow. There are no citations for this tribe or their traditions, but the logic Vogler uses is that the story structure related here is valuable and intrinsic because these universal tribal forefathers used it. He folds in cheap quotes from Aristotle and others without embarrassment, using them in all their generality to back up his unsubstantial points. There are also unbelievably (and predictably uncited) general and vague scientific examples that say little of actual science and, worse, often little to support his claims. All this devolves into a chapter on how a good story should effect several bodily organs at a time and a superficial several pages on chakras. Vogler, with little understanding of the deep worlds he's visiting, just puts together a mishmash of cultures, philosophy, religions and science (with a scattered few engaging analyses of movies according to Campbell's structure that provoke the fleeting wonder of what this book could have been) and splats it against the wall like a monkey throwing shit.Some favorite lines towards the end of the book:"According to some modern Hindu sages, Hitler may have been very open in the power and throat chakras, making him an effective communicator who could stir the emotions and marshal power with his voice, but he was probably shut tight in most of the other chakras.""My motto as a story evaluator became, 'If it isn't making at least two organs of my body squirt fluids, it's no good.'"
Review by gregorymose
16/06/2015
This is an extremely useful tool when trying to plot out a novel. It has to be taken with a grain of salt, but the author himself points out repeatedly that the idea is not to slavishly follow his outline of the standard mythic patterns made famous by Joseph Campbell, but to use them as a guide and inspiration. His examples rely heavily on movie scripts, but his observations apply very well to novel writing.
Review by JeaniaK
16/06/2015
I learned a new way of looking at stories and movies from this book. They say it is one of the fundamental texts for hollywood script writers and I believe the archetypes and journey stages are strong models to refer to for the fiction writer. One might best explain this book in applying one of its models - the journey stages - to a film many of us are familiar with. I tried it with Forrest Gump:1) Ordinary World: Begins life as a cripple, with odds stacked against him 2) His quest becomes Jenny, an early friend who treats him normally and represents normal life. She speaks the Call to Adventure: Run Forrest, run! 3) Reluctant Hero: Forest still gets beat up, still called stupid by most 4) Mentor = Momma, who believes in him and tells him he can do anything/ "Stupid is as stupid does." 5) Crossing the First Threshold: Becoming a football hero (through running & confusion) 6) Tests: Nearly getting killed in war, Jenny rejecting him in a coffee house, fights with Jenny's boyfriend (they represent hippie counterculture when he is a Viet Nam military hero they protest), Jenny almost killing herself and taking his goal of gaining her as his true love from him. 7) Inmost cave: Forrest faces his first real failure in a long time as a shrimper, but Lt. Dan faces his fears of failure too and they both ride out a storm that ultimately is the saving grace for their shrimp boat business. Also, Lt. Dan invests their money making them financially secure for life. 8) Ordeal: Momma dies 9) Reward: Jenny comes back only to leave him the day after she has sex with him to prove she loves him. 10) Road Back: Forrest starts running again. People see him as a wise man and follow his lead. 11) Ressurection: Jenny contacts him, they come together, he learns he has a son! Who's smart! 12) Return With The Elixir: The family goes back to Alabama. Jenny dies, but little Forrest is an important legacy of big Forrest's original quest.
Review by Laurenbdavis
16/06/2015
Perhaps better for screenwriters than novelists, there is still much to admire in this work, especially since I'm an admirer of Joseph Campbell's work, to which Vogler acknowledges a huge debt. It's thought-provoking, especially in terms of plot. As I say, perhaps not wonderful for the prose writer, since almost all examples are taken from film. I love the exploration of archetypes -- a great leaping off place for any writer.
Also by Christopher Vogler