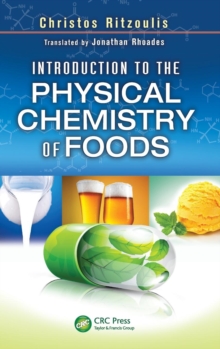 Introduction to the Physical Chemistry of Foods
Hardback
Description
Introduction to the Physical Chemistry of Foods provides an easy-to-understand text that encompasses the basic principles of physical chemistry and their relationship to foods and their processing.
Based on the author's years of teaching and research experience in the physical chemistry of food, this book offers the necessary depth of information and mathematical bases presented in a clear manner for individuals with minimal physical chemistry background. The text begins with basic physical chemistry concepts, building a foundation of knowledge so readers can then grasp the physical chemistry of food, including processes such as crystallization, melting, distillation, blanching, and homogenization as well as rheology and emulsion and foam stability.
The chapters cover thermodynamic systems, temperature, and ideal gases versus real gases; chemical thermodynamics and the behavior of liquids and solids, along with phase transitions; and the thermodynamics of small molecule and macromolecule dispersions and solutions. The text describes surface activity, interfaces, and adsorption of molecules.
Attention is paid to surface active materials, with a focus on self-assembled and colloidal structures.
Emulsions and foams are covered in a separate chapter.
The book also introduces some of the main macroscopic manifestations of colloidal (and other) interactions in terms of rheology.
Finally, the author describes chemical kinetics, including enzyme kinetics, which is vital to food science.
This book provides a concise, readable account of the physical chemistry of foods, from basic thermodynamics to a range of applied topics, for students, scientists, and engineers with an interest in food science.
Information
Format: Hardback
Pages: 224 pages, 286+ equations; 1 Tables, black and white; 56 Illustrations, black and white
Publisher: Taylor & Francis Inc
Publication Date: 17/04/2013
Category: Physical chemistry
ISBN: 9781466511750
Free Home Delivery
on all orders
Pick up orders
from local bookshops