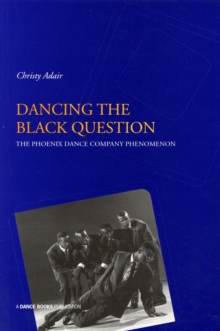 Dancing the Black Question : The Phoenix Dance Company Phenomenon
Paperback / softback
Description
In this dynamic cultural history of the internationally celebrated Phoenix Dance Company, Christy Adair interrogates the factors which contributed to the success of the company.
This complex narrative, played out through gender, ethnicity, and class, locates Phoenix as a significant artistic force in British contemporary dance.
It draws on a range of primary sources including the Company archives and interviews with members of the Company from 1981-2001.
One of the paradoxes which the Company faced was the expectation by funding bodies, critics, and audiences that it should represent 'the black community', with such expectations posing a challenge for each successive artistic director.This provocative reconsideration of British dance history confronts the Euro centrism of dance in the late twentieth century and investigates institutional racism on the part of arts policy makers, funders, and critics.
Information
Format: Paperback / softback
Pages: 352 pages, black & white illustrations
Publisher: Dance Books Ltd
Publication Date: 20/03/2008
Category: Dance
ISBN: 9781852731168
Also by Christy Adair