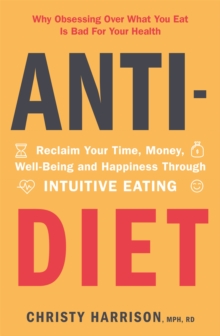 Anti-Diet : Reclaim Your Time, Money, Well-Being and Happiness Through Intuitive Eating
Paperback / softback
Description
A how-to guide to reclaiming your time, money, health and happiness in our toxic diet culture. In Anti-Diet, Christy Harrison takes on diet culture and the multi-billion-pound industries that profit from it, exposing all the ways it robs people of their time, money, health and happiness.
It will turn what you think you know about health and wellness upside down, as Harrison explores the history of diet culture, how it's infiltrated the health and wellness world, how to recognise it in all its sneaky forms, and how letting go of efforts to lose weight or eat 'perfectly' actually helps to improve people's health - no matter their size.
Drawing on scientific research, personal experience and stories from patients and colleagues, Anti-Diet provides a radical alternative to diet culture, and helps readers reclaim their bodies, minds, and lives so they can focus on the things that truly matter. 'Please read this book! Anti-Diet is the book to end all diet books, and will be a game changer for so many people.
Christy is an expert on this subject and leaves no stone unturned in exposing how insidious and harmful diet culture is - and teaching readers how to opt-out of the madness.' - Caroline Dooner, author of The F*ck It Diet 'A huge burden has been lifted: I no longer have to revise my first book to reflect current understanding!
Christy Harrison beat me to it. I'm blown away by how good Anti-Diet is. Using a social justice lens, well-researched and smart science, captivating storytelling, and practical advice, this book will help you reclaim your life from the throttle of diet culture.'- Linda Bacon, author of Health at Every Size, co-author of Body Respect'Most diet and wellness books claim to address mind, body, and spirit, but in fact they are just about body.
Thank goodness for Christy Harrison, whose empathetic book reveals oppressive diet culture for what it truly is, and offers a genuinely holistic alternative.' - Alan Levinovitz, author of The Gluten Lie
Information
Format: Paperback / softback
Pages: 336 pages
Publisher: Hodder & Stoughton
Publication Date: 26/12/2019
Category: Dietetics & nutrition
ISBN: 9781529381177
Free Home Delivery
on all orders
Pick up orders
from local bookshops